3 Days on a Houseboat: The Fun, the Fears and the Family Memories
Author

Guest Blogger (Kath Race - Family Travels USA)

Category

Destinations, Guest Bloggers, Tricks of the Trade
3 Days on a Houseboat: The Fun, the Fears and the Family Memories
Renting a houseboat has always been on our family vacation bucket list, so I was very excited when the opportunity came up this summer. A three day trip would allow us to see what houseboating was really like, and it was a great excuse for our first visit to beautiful Smith Mountain Lake. With over 500 miles of shoreline tucked away in southwestern Virginia, we were confident we would have plenty of space for some quiet relaxation. Plus being on a 39' houseboat would be the ultimate family bonding experience before my oldest heads off to college! Here's what I discovered during our adventure, including some helpful tips for first time houseboaters.
Houseboating definitely takes some time and work to get settled; luckily the folks at Parrot Cove Boat Rentals were quite efficient in getting us quickly on the water. It's funny how the houseboating websites never show pictures of people signing paperwork and loading all their stuff on the boat! Once my husband got the boat out of the marina, we cruised for about an hour, searching for the ideal spot. Our first stop was a small cove near one of the state park areas of the lake.
The Fun
Once you find the perfect spot to drop anchor and the boat is secure, you can really begin to unwind and let the fun begin! Essential items for relaxing include rafts, tubes, pool noodles, food and drink. Our $10 rafts were perfect for the deep water, and we were able to lounge around for most of the day. The 2nd story slide was helpful for those of us (me!) who didn't want to jump from the top deck. Our adjustable beach chairs came in handy for lounging on the deck, especially at night when the sky was filled with stars. My husband had high hopes of throwing fresh caught fish on the grill for dinner, but it was not meant to be. Fishing from a raft didn't really work any better (although we were curious to see where he would put the fish as he paddled back to the boat), but he had fun trying. Our back-up plan of grilled chicken and steak definitely came in handy. The colorful sunset over the water was the perfect end to the day.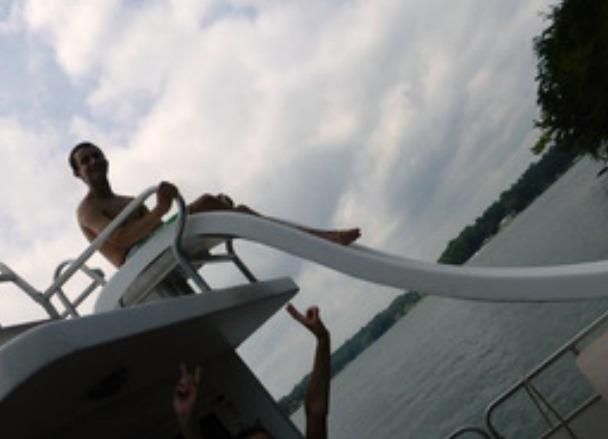 On Day 2, we decided to venture to a more remote cove for the remainder of our stay. Once anchored, we spent another lazy day in the water, along with card playing on the shady front deck, and scary stories at night under the stars. We were greeted on Day 3 by a flock of geese passing through our cove. It was another beautiful day on the water, and we took our last opportunity to swim and enjoy relaxing on the boat before heading back to the marina.
The Fears
I will admit that I'm a bit of a worrier, and my biggest fear was drifting off to sleep and waking up on the other side of the lake. Needless to say, I didn't sleep well our first night, waking up often to peek out the window and check our position, but I'm happy to report that my fears were unfounded. I realized that houseboating is similar to camping in some ways, with those unfamiliar noises you hear during the night, along with the pitch black sky. I couldn't blame my daughter for wanting to sleep under the beautiful star-filled sky on deck, but it did cause me to sleep with one ear open until she decided to rejoin us in the cabin. Our second night was much more peaceful, securely anchored in a bigger cove. Luckily for us, we didn't encounter any of the daily thunderstorms which have been so plentiful this summer. Having a confident driver also helped. I think my whole family would agree that Mom driving the boat is not a good idea!
The Family Memories
Whether its 3 days or 3 weeks, vacations are all about creating lasting memories, and the houseboat will definitely be remembered for many reasons. Hours playing in the water, flipping each other off the rafts, enjoying the rooftop slide, the kids watching me scramble to grab my sunglasses as they floated to the bottom of the lake, and hanging out on the upper deck to stargaze and tell ghost stories are just a few. I'm sure my kids will also be constantly reminding me that I was too scared to jump off the top deck (although they will conveniently forget that I did make it through my first high adventure course just a few days prior). As expected for first time houseboaters, we did have a few stressful moments, but all in all it will be remembered as a wonderful trip, full of relaxing moments and great memories.
Helpful Tips:
Having some basic boating skills under our belt certainly made us a little more comfortable when we first motored away from the dock. Unlike a car, houseboats don't brake quickly, nor do they steer as easily as a smaller power boat. It was a bit unnerving at first when you turned the wheel and the boat did not immediately change directions, but my husband handled it well, even in the crowded areas of the lake.
Houseboats around the country range from basic models to luxurious boats with all the amenities you would find in an expensive hotel. Typically you don't really need to bring much besides your food and drink. We brought extras like beach chairs for lounging, beach towels, music, playing cards and games, books, and lots of things to float on. Most places will provide you with a detailed list of items that are included. Extra towels always come in handy.
Our top deck was not covered - it would have been nice to have brought a small tent canopy to provide some shade during the day. Most of the deluxe and luxury houseboats in the hotter parts of the country offer this feature.
Consider the age of your passengers and how you will be spending your days. Many houseboats offer packages that include Waverunners, small motor boats, paddleboards and kayaks. Depending on the length of your stay and where you are boating, you might need a smaller boat to get to a marina or to the shore.
Visit houseboating.org to get more information about the many lakes around the country where houseboat rentals are available.
Before departing, review the map and get recommendations from the marina for the best spots for fishing, refueling, and overnight anchoring. Ask about the most efficient cruising speeds to maximize your fuel. And finally, make sure you understand the best method for anchoring the boat.
This Blog Post first appeared on www.familyTravelsUSA.com.