46' Voyager XL Class Houseboat
46' Voyager XL Class Houseboat
For a step up in quality, we also offer the 46' Voyager XL Class houseboat. This model features all the amenities of the standard 46', plus some extra perks and a little more interior space for a roomier trip. Compare the stats and pricing on the two models today to see which version is right for you and your group.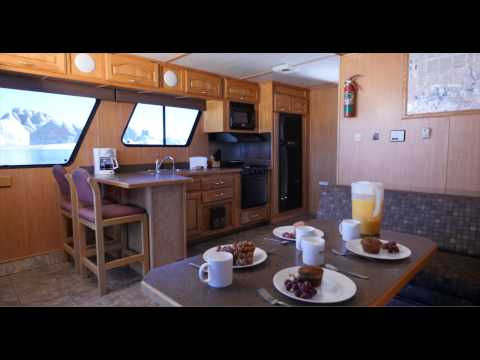 46' Voyager XL Class Houseboat
Length

46 feet

Width

16 feet

Capacity

The maximum capacity while in motion is 12 persons

Staterooms

2 Private Staterooms

Sleeps

8 persons

Bed Details

2 Queen beds and 2 Pull-out Beds

Bathrooms

1 Full Bathroom

Trip Lengths

3 Day (2 Night) Minimum

Marinas

Lake Powell - Bullfrog Marina
Please Note: The pricing information displayed below is subject to change (and it does change frequently). We endeavor to be as accurate as possible, but make sure you confirm pricing with your customer service agent before booking any trip.

Season
Dates
3 days
4 days
5 days
7 days
2017
Winter / Spring 2017
01/01/17 - 06/20/17
$2,053
$2,737
$3,421
$4,106
Summer 2017
06/21/17 - 08/22/17
$4,025
$4,830
Fall / Winter 2017
08/23/17 - 12/31/17
$2,053
$2,737
$3,421
$4,106
2018
Winter / Spring 2018
01/01/18 - 06/20/18
$1,102
$1,469
$1,836
$2,204
Summer 2018
06/21/18 - 08/19/18
$2,188
$2,625
Fall / Winter 2018
08/20/18 - 12/31/18
$1,102
$1,469
$1,836
$2,204

The rental rates listed do not include sales tax, national park service fees or fuel expense. The full rental is due at the time of booking. A refundable security deposit of $600 is due 45 days prior to departure. Minimum day requirements may vary by season. If you are traveling to the Bullfrog Marina from Colorado, the Halls Crossing Ferry hours vary by season. Please call the National Park Service for rates and schedules.
Special Features
TV
DVD
Stereo / CD Player
Sun Canopy
Deck Furniture
Cushions for Upper Deck
Cooler
Slide
Boarding Ramp
Towels
Bedding
Bullfrog Marina has linens available upon request up to maxumum sleeping capacity on all economy class houseboats.
Kitchen Features
Cookware
Plates, utensils, glassware
Coffee Maker
Blender
Toaster
Refrigerator
Microwave
Stove
Oven
Outdoor Gas Grill
Mechanical Features
Generator
12 Volt Lighting
Power Outlets (110v)
Water Heater
Air Conditioning
Furnace / Heater
Marine Radio
Below is a list of items that will be provided with your houseboat rental.
Onboard Supplies
Dishes & utensils
Anchors & Line
Ash Trays
Broom
Captain's Chair
Cheese Grater
Coffee Pot
Cooking Utensils
Cork Screw
Cutting Board
Deck Chairs
Dining Utensils
Dish Drainer & Mat
Drinking Water
Dustpan
Fire Extinguishers
Garbage Can
Hot Pads
Ice Chest
Ice Pick
Life Jackets
Linen Package
Marine Radios
Matches
Mop/Bucket
Pitcher
Propeller (spare)
Toilet Brush/Bucket
Toilet Tissue
THANK YOU!
Your request has been submitted.
One of our houseboat experts will be in contact with you shortly.
You can also call us toll-free at 888-454-8825 for quicker service.