Best Houseboating in the West
Author

Heather

Category

Destinations, Good News 'n Stuff, Things to Do
Best Houseboating in the West
We rent at over 40 locations nationwide. So how to choose where to visit? Whether you stay close to home or come from across the country or across oceans, each one of our destinations have something unique to offer apart from the go-to lake activities like fishing or watersports.
In 2014, there were lots of concerns for many western destinations about water level. The good news is, houseboating is affected very little by water level. And as water level fluctuates all year round, the main thing that changes with the water level is the shoreline that was previously underwater is revealed. What does that mean for houseboaters? More coves to explore, and hidden gems like ruins of old mining buildings become exposed.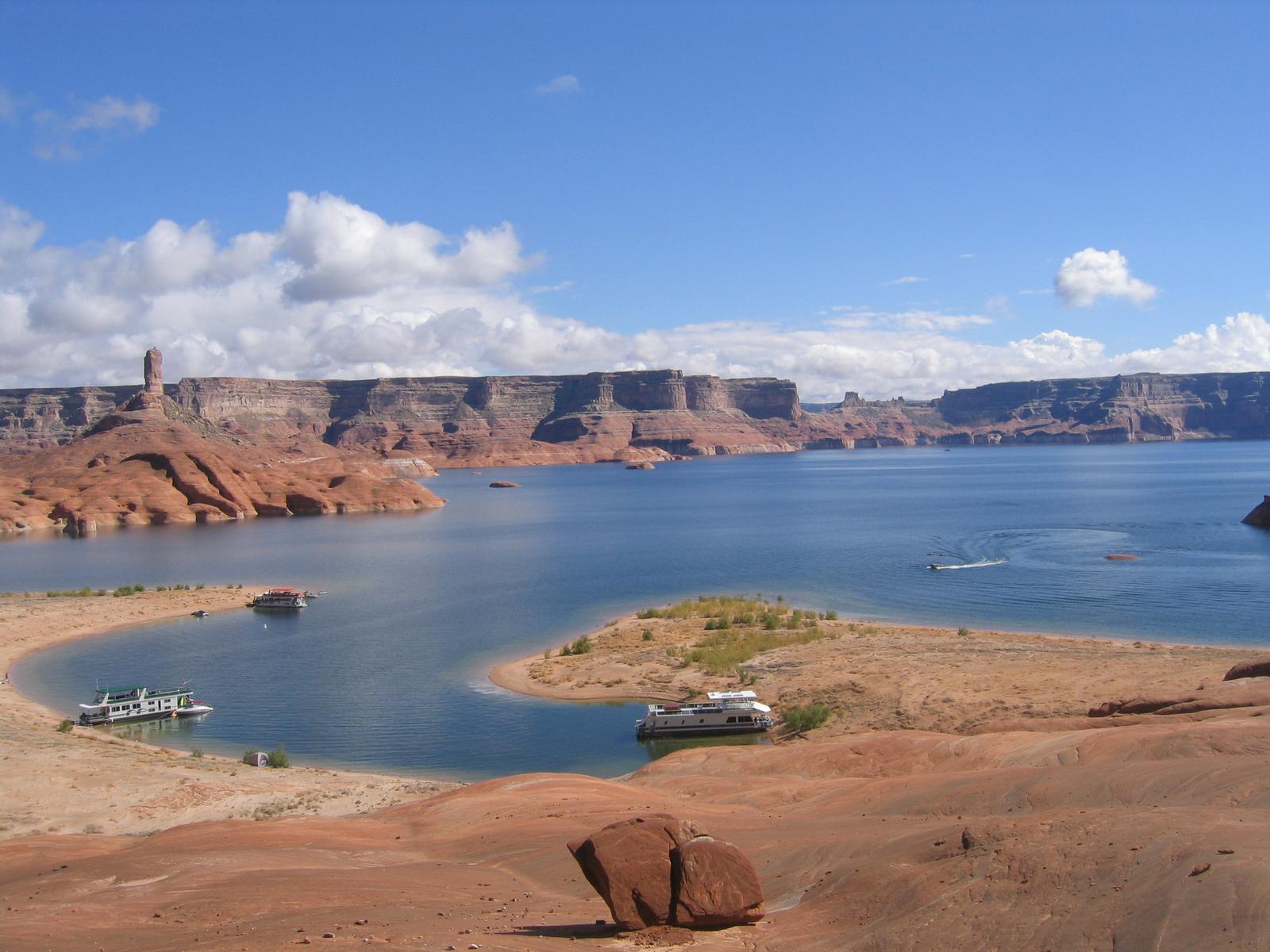 Explore the red rock cliffs and canyons that line the calm waters with over 1900 miles of shoreline.
Gawk in awe at the inspiring sights along the lake, like the famous Rainbow Natural Bridge, get a glimpse of history and explore Anasazi Ruins, read ancient stories in the Petroglyphs, and make out shapes in the rock formations.
As of 1/20/15: the water level is at 3594.92' elevation (full pool is 3700'), almost 463' deep at the dam. Currently at 90% snow pack.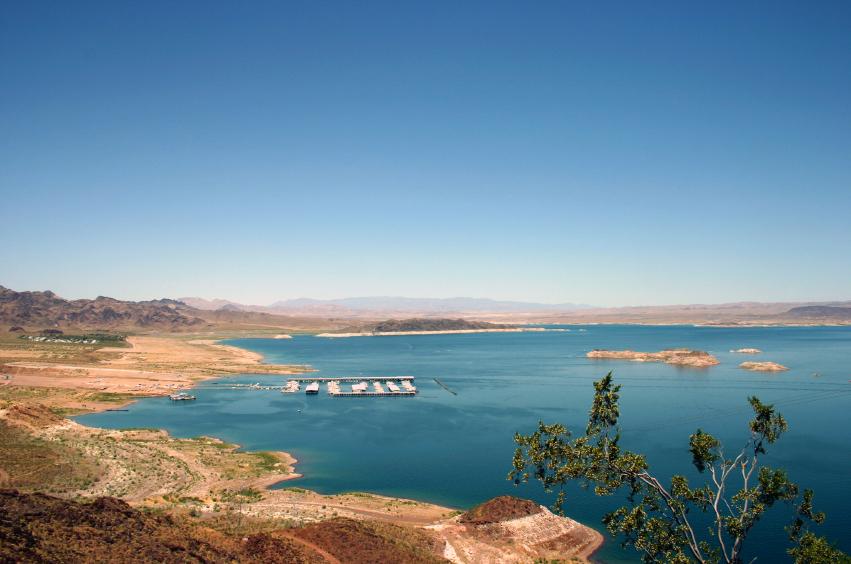 Visit some of the most photographed areas on the lake: Napoleon's Tomb and The Temple rock formations near Temple Bar Marina
Kayaking is a popular way to explore any area, or spend a laid back day swimming at the sandy beach area at Cathedral Cove on the Overton Arm of the lake.
Scuba diving: the most famous spot is the B29 Bomber, which crashed into the lake in 1948 (note:requires permit and advanced diving skills)
With lower water levels, you may be able to take a powerboat back where the Muddy River and Virgin River meet on the northern end of the Overton Arm to see the ruins of St Thomas, an old Mormon settlement.
Current water level as of 1/21/15 is at 1089.27' elevation (full pool is 1219.60')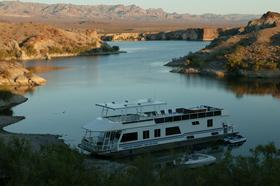 Made up of deep canyons and dramatic rock cliffs with views of distant mountain ranges, Lake Mohave is an oasis in a seemingly barren desert.
Discover ancient indian petroglyphs while hiking among the desert flowers and scittering reptiles that adapted to the scarce rainfall and high temperatures of the desert.
Oatman, Arizona is a quaint "ghost" mining town located a few miles just south of the marina, a town populated largly by burros which roam the streets on the lookout for a tourist to feed them a carrot. Continue on Route 66 to Kingman and make a loop back to Las Vegas: the scenery is exceptional!
Current water level as of 1/21/15 is at 638.97' elevation (full pool is 647')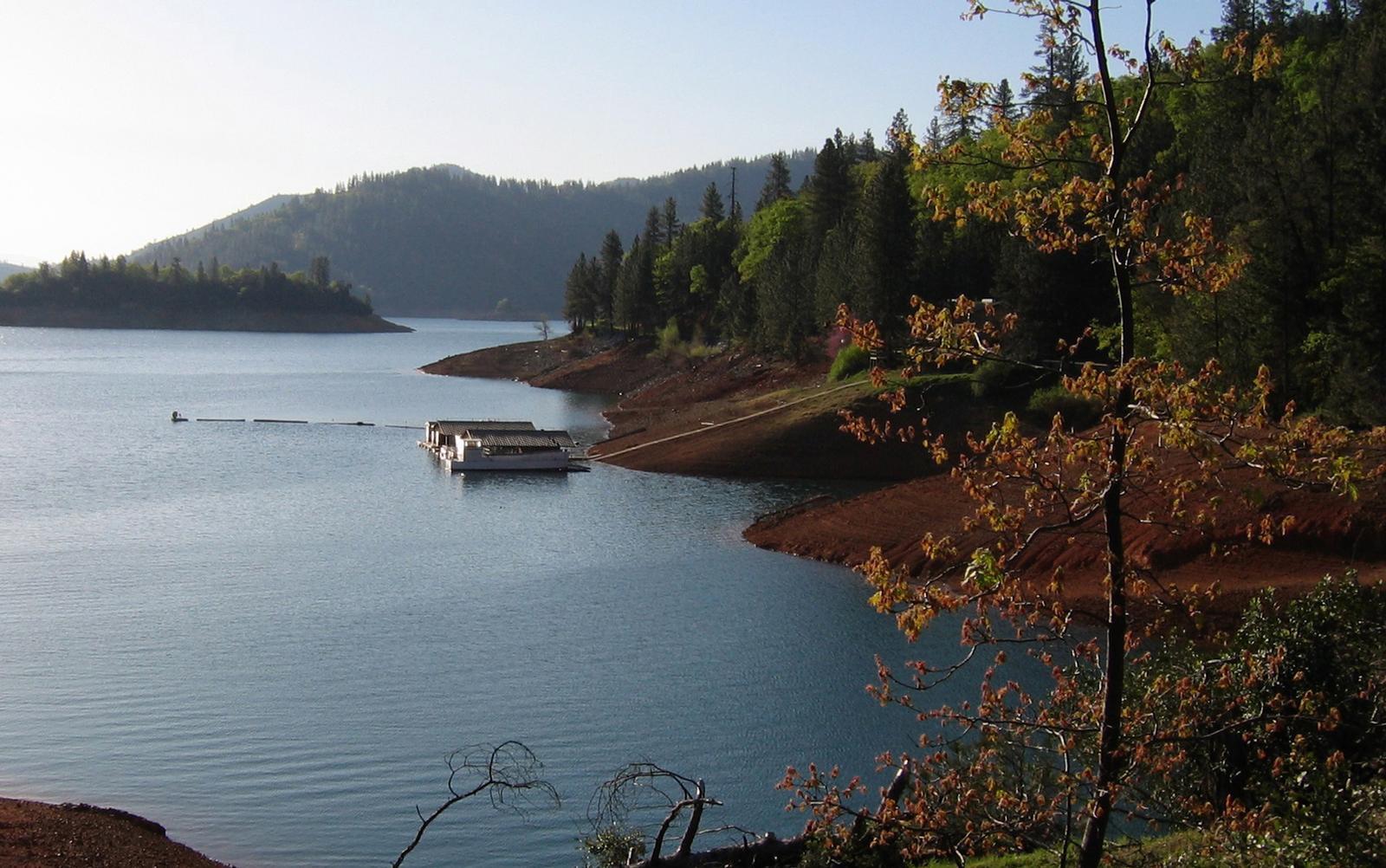 Lake Shasta: STILL HAS PLENTY OF WATER!
Shasta Caverns, formed by limestone "grey rocks" is a must-see on the McCloud River Arm. There are daily tours, and you can reach the ticket office reached by car or boat.
On the Squaw Creek Arm, explore the ruins of the Bully Hill Mine, a copper mine used in early 20th century.
Views of beautiful Mount Shasta can be enjoyed from almost anywhere on the lake.
Bear Canyon Falls can be seen near Arbuckle Flat, and can be just a short hike (depending on water level.) Devil's Postpile National Monument and Waters Gulch Waterfall up the Sacramento Arm (just off Indian Creek) are also wonderful areas to check out.
Current water level as of 1/20/15 is 954.78' (full pool is 1067')
Located just 20 miles west of Lake Shasta, this lesser known lake is a hidden treasure.
Offering secluded coves and beaches lined with trees, Trinity Lake is perfect for a quiet getaway.
Bass fisherman flock to Trinity lake in the springtime; rainbow trout can be found throught the year, frequenting Suarts Fork and at the Main Stem.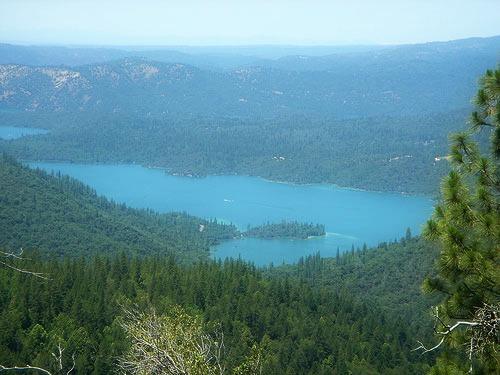 Lake Oroville is home to the tallest dam in the United States. Aptly named Lake Oroville dam stands an impressive 770 feet tall.
Hiking in Plumas National Forest is unparallelled. Feather falls is a 7 mile roundtrip hike to this 640 foot waterfall. Bald Rock is a half mile hike roudtrip that features rock formations and gorgeous views of the Sacramento Valley from the top.
Salmon Festival is celebrated at the end of september, to mark the journey salmon make from the ocean back to their spawning grounds in Feather River.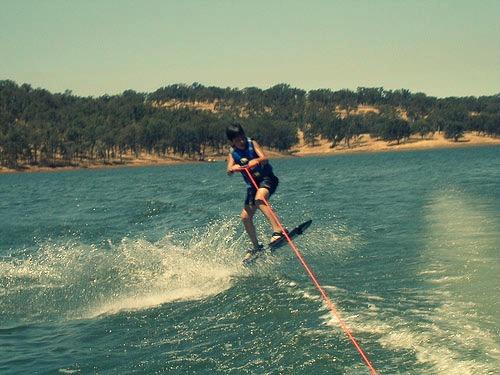 Eastern views of Yosemite National Park peaks, including Mount McClure (12,900 feet), Mount Lyell (13,133 feet), Mount Ritter (13,157 feet), among others.
Eagle Shawmut gold mine, along the Toloumne River, was recently exposed because of lower water levels. The mine produced gold, silver and copper before it was submerged in 1971
Gold panning is a fun activity along the shorelines. Who knows what you'll find at the bottom of your pan...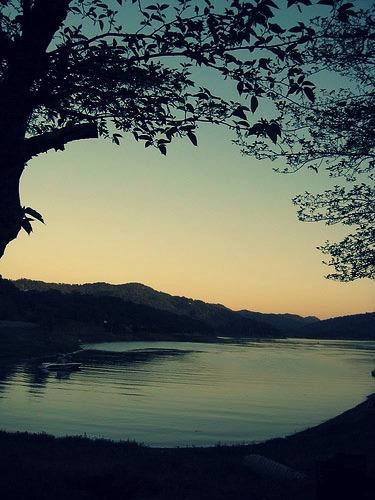 Glory Hole is the largest morning glory spillway in the world. It narrows from 72' to 28'; during high waters the water spills into the funnel instead of over the dam.
Hiking on Big Island and kayaking up the Putah Creek Arm are great ways to wind down. Take in the serenity and get yourself grounded back in nature.
"The Narrows" is a narrow portion of the reservoir near the dam, and a popular spot for waterskiing enthusiasts, providing glass-like water as a luxuriously smooth canvas waiting to be painted by a wakeboard, waterski or tube. Hike from this area up to the Monticello Overlook for a spectacular view.
Beautiful, vineyard lined Napa Valley is close by, an area so beautiful you can taste it.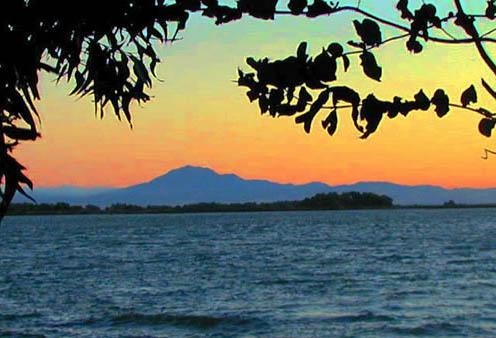 Nearby Old Town Sacramento is a fun place to visit for a turn-of-the-century environment. Make sure to stop by on your way to or from the Delta area.
Wind surfing is popular near Rio Visa, and Ski Beach "party island" are popular with the younger crowd (not necessarily family friendly). Party Island is only acessible by small boat.
Franks Tract State Recreation Area is a protected wetland marsh that is home to beaver, muscrats and river otters.
Blackberries, gather all you can eat! These sweet berries line the delta.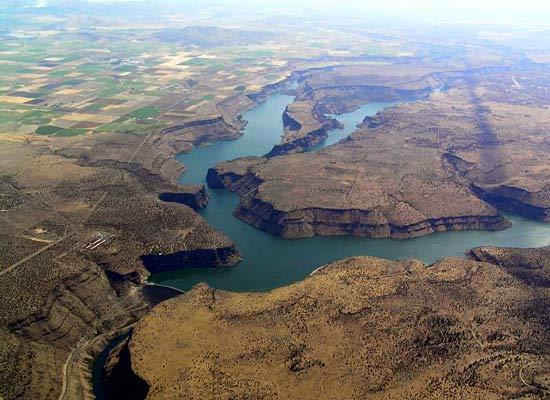 Towering cliffs with clear waters flowing between the deep carved banks of the Crooked, Dechutes, and Metolius Rivers. The Red Butte Dam makes this convergence a reservoir instead of a three-in- one river.
The Crooked River petroglyph boulder is over 15 tons and covered with with petrogplyphs that have social and religeous importance to the Native Americans.
Keep your eyes out for Bald and Golden Eagles. The best chance to see them is at the far end of the Metolius River arm, more commonly spotted around the last weekend in February.
The cooler waters of Lake Billy Chinook make this area a fisherman's haven. Kokanee salmon, smallmouth bass, rainbow and bull trout, and german browns are common catches, and there are occasional atlantic salmon and catfish.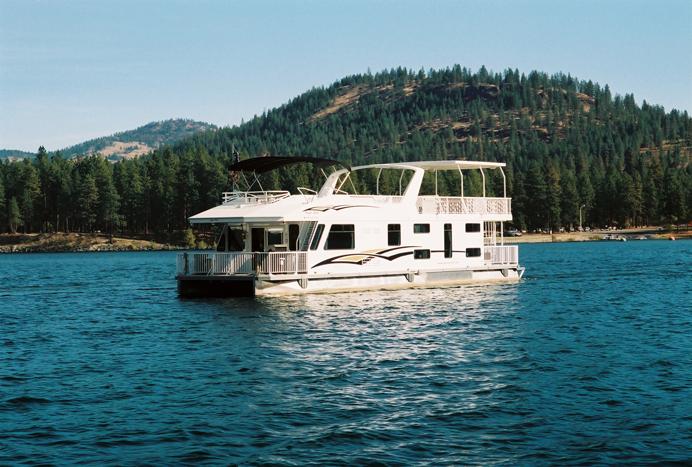 Star gazing is spectacular in this area. In fact, the Northern Lights can be seen particularly well from the Kettle Falls area.
The Grand Coulee Dam is the largest in North America, which is almost a mile long, and stands at 550 feet tall near Seven Bays marina.
Hike to Hawk Creek Canyon waterfall, take in a breathtaking sunset at Halverson Canyon, or search for tribal artifacts that can be exposed when lake levels fall (although it is illegal to remove artifacts from these sights.)
Try your luck at the Two Rivers Casino or the Coulee Dam Casino, each at the shoreline's edge.
There is something to be discovered at each destination. Where will your next houseboating adventure take you?
Contact us online or call us at 888-454-8825 to plan your best of the west houseboating vacation!