Lake Shuswap Scuba Diving
Author

Heather

Category

Destinations, Things to Do
Lake Shuswap Scuba Diving
Lake Shuswap in beautiful British Columbia, Canada, has a lot to offer houseboat visitors: hiking, waterfalls, fishing, rafting, kayaking, canoeing, and horseback riding (among other things.) However, Lake Shuswap is a mecca to scuba diving enthusiasts.
Whether you're a scuba novice or a seasoned diver, there are numerous dives throughout the lake for you to explore while you're on your Lake Shuswap houseboat vacation. There are countless wall dives, underwater cave systems, and even some historic shipwrecks to investigate. Here are a few dive spots that are not-to-be-missed:
If you're up for an advanced dive (of about 90 feet,) check out the Alvera tug boat near the Cinnemousun Narrows, where the four arms of the lake intersect. The boat is burnt to the waterline but the hull, engine, and transmission are preserved. A Dive Heritage Site.
The S.S. Whitesmith Icebreaker Ferry, a screw-driven steamer which was equipped to break ice was used to deliver goods to the Seymour Arm in the late 1920's. It broke free in a storm in 1933 and sunk near Semaphore Point. It is now a favorite diving destination. Also a Dive Heritage Site.
A 1920's Model T Ford sunk while it was towing five sleighs full of mail over the frozen lake when it plunged through the ice in the 1930's. The driver, Captain John Joseph Smith survived, but the sleigh remains at the bottom of Sicamous Bay.
Dive to the Old Railway Barge, which was used to move railway cars and goods to the northern end of the lake. It's an easy 60 foot dive near Scotch Creek.
Wall dives ranging between 50 and 130 feet, and a 50 foot limestone formation near Eagle Bay.
A sunken houseboat (not to worry, it's extremely rare) sits at the bottom of the lake near Copper Island on the western side of the main Shuswap arm.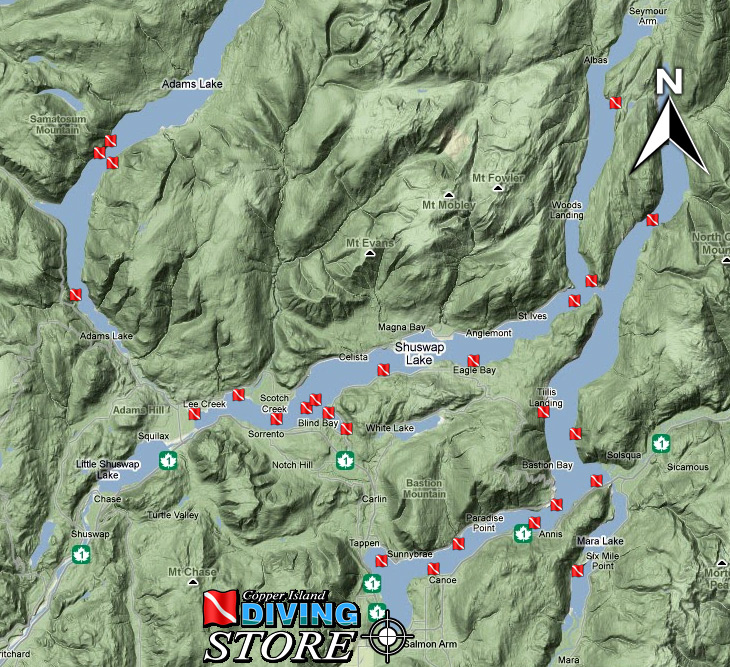 If you happen to find yourself at Lake Shuswap from about mid-September to late October, don't miss the opportunity to dive the world famous Sockeye Run, during which over two million Sockeye Salmon gather for their journey back to the Adam's River. The sight is spectacular, like facing a wall of fish.
Note: If you're heading to Lake Shuwap from the United States of America, be sure to have all necessary documentation on hand prior to your vacation. Learn more about which documents you'll need to cross the border in our Canadian Houseboat Vacations blog post.