Raystown Lake, a Mountain Bikers Paradise
Author

Heather

Category

Destinations, Things to Do
Raystown Lake, a Mountain Bikers Paradise
The famed Allegrippis Trails at Raystown Lake is a premier single-track mountain biking system that brings folks of all ages and abilities to the area to take part in Dirt Fest, an annual event that takes place the third weekend in May. Dirt Fest is a mountain bike festival that celebrates the 36 miles of flow trails of the Allegrippis loops. The 24 trails were built in stacked loops so that riders can plan a route as short or as long as they'd like in endless combinations and repeat visitors can discover a new route each time.
The 8.5 South Loop is the perfect mixture of adventure and solitude with large climbs and descents through the forest. From the South Loop you can access the Stony Trail for an intermediate ride which can be rocky at times but delivers that thrill some mountain bikers crave. On the north side, the Deer Trails and Hydro Loops are great if you don't have a lot of time to spend but want to see some highlights featuring lake level and flowy sections.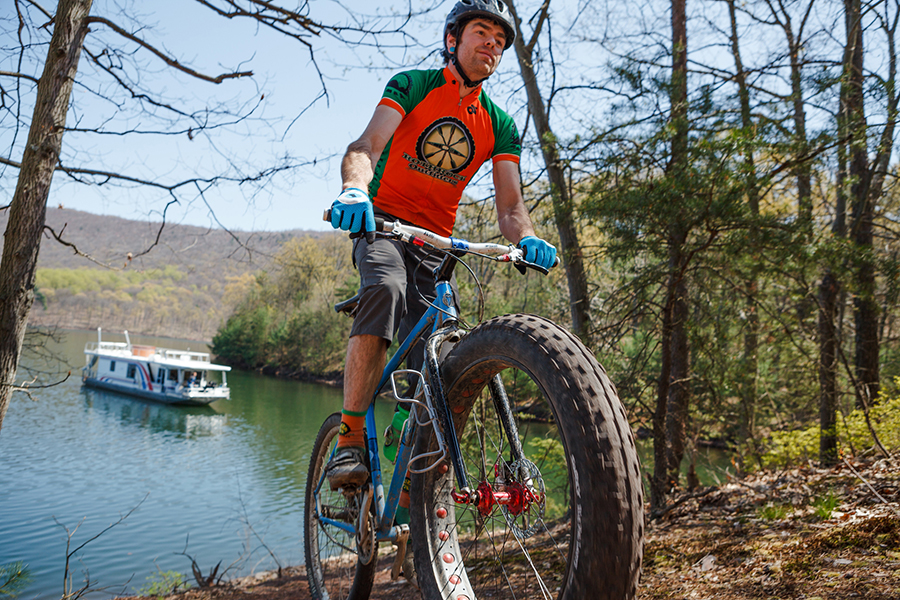 Park your houseboat along the shoreline for easy access to these trails during your trip. Then come back to your houseboat home to relax, have a beer and plunge into the refreshing water from the slide on the top deck. Enjoy the sunset as it it fades into the skyline behind the trees and watch the stars appear; more stars than you've ever seen before.
Houseboats are permitted to navigate the lake from the Seven Points Marina north to mile marker #1 and south to mile marker #15. See a detailed map of the area here: Raystown Lake Map
Exploring these trails are just one of the ways you can enjoy your houseboat vacation on Raystown Lake. See our other blog feature for more ideas: Pennsylvania's Hidden Heaven