Raystown Lake-Pennsylvania's Hidden Heaven
Author

Gina

Category

Destinations, Good News 'n Stuff, Things to Do
Raystown Lake-Pennsylvania's Hidden Heaven
Burrowed in the rolling green hills of
south central Pennsylvania
lies scenic Raystown Lake. Vast blue waters surrounded by lush forested shorelines provide a perfect setting for your peaceful getaway. With over
19 different models of houseboats
to choose from - each with a unique interior, you're sure to find a home away from home that suits your needs and desires for your vacation on the lake.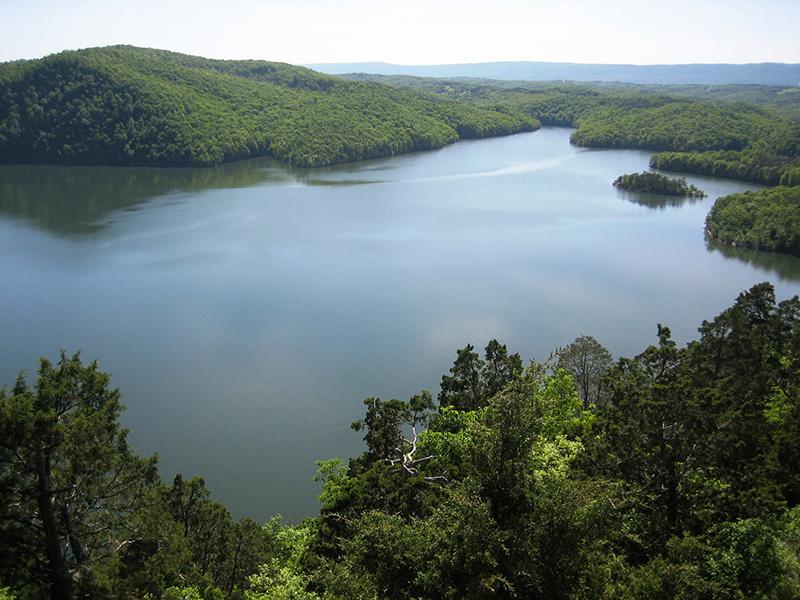 Once you choose your ideal home away from home, prepare for a vacation you'll never forget. With plenty of activities to enjoy at the lake during your stay, you're sure to fill your days with just the right amount of relaxtion and fun. Find out more below on what you can do while visiting Raystown Lake:
Hiking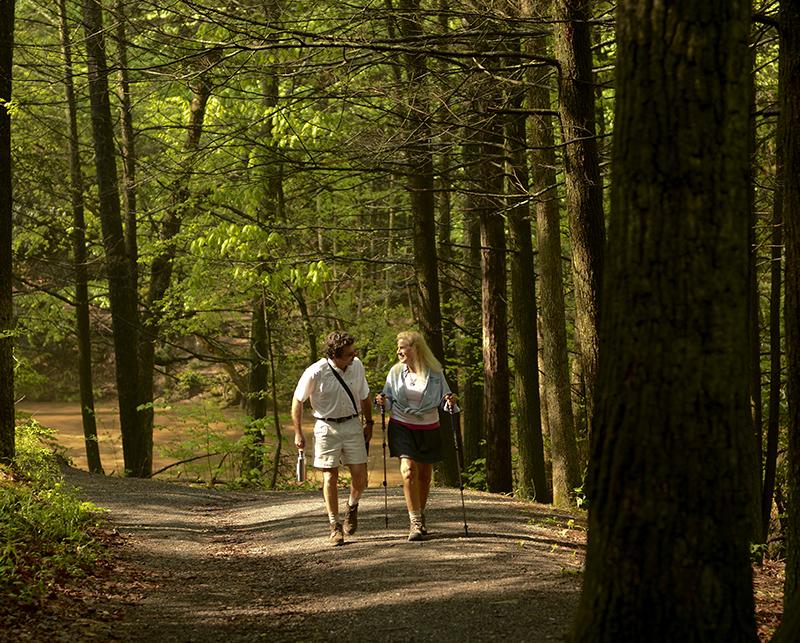 photo by Michael Reed
Allegrippis Trails at Raystown Lake Recreation Area (Map Below)
•
Features 30+ miles of stacked loop trails for hikers and mountain bikers of all skill levels, and nearly endless combinations
•
Access the Allegrippis Trails at trailheads along Seven Points Road and on Bakers Hollow Road
•
Open year round for public use (although exceptions/additional regulations through hunting seasons may apply.)
For more information contact the Raystown Lake Recreation Area 814-658-6809 or visit http://www.allegrippistrails.com/
Other trails on the lake
•
Riverside Nature Trail, located below the dam
•
Terrace Mountain Trail – not for the faint of heart, this 18 mile trail rewards trekkers with unparalleled views of the lake
Other Nearby Trails
•
Standing Stone Trail – winds through some of the state's most scenic landscape
•
Flagpole Hill Trail System – consists of nine well maintained interconnected trails accessible from 5th Street or Peace Chapel Road, just off of Warm Springs Avenue in Huntingdon
•
Trough Creek State Park – 12 miles of trails along rock ledges and through narrow ravines. Some popular trail highlights are Rainbow Falls and Balanced Rock (pictured below)
Fishing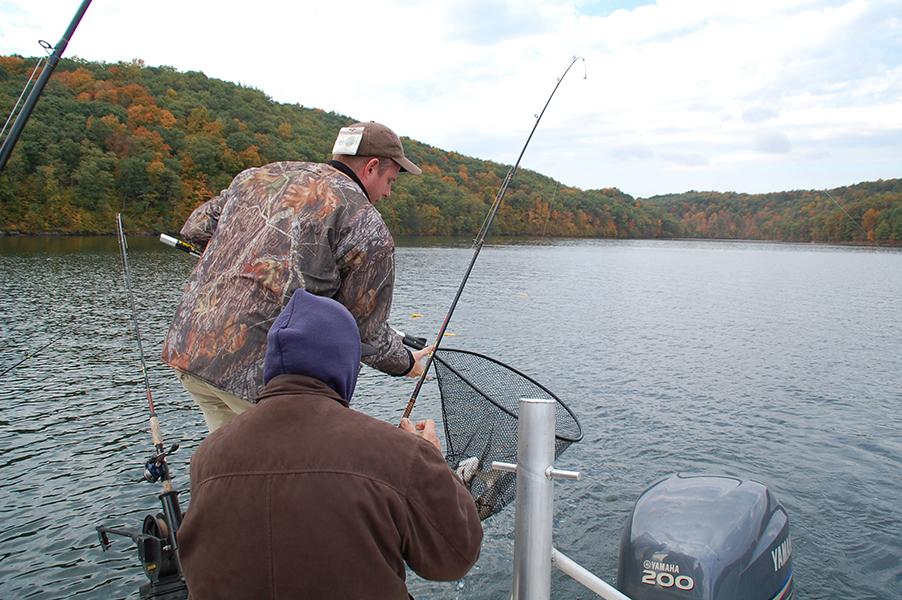 One of the best places to fish, Raystown Lake is called "a fisherman's paradise" by locals and visitors alike.
Seven Points marina has fishing tackle and bait for purchase, as well as fishing boats for rent.
Licensing
Licenses are not sold at the marina, but they may be purchased nearby in Huntingdon (about 10 minutes away from the marina), or ahead of time online at http://takemefishing.org/state/pa/pa-fishing-license-and-regulations/
Types of Fish
A wealth of catfish, carp, bass (striped, largemouth, rock and smallmouth), walleye, trout (lake, brown and rainbow), muskie, perch, crappie, bluegill, smelt, and Atlantic salmon.
Where to Fish
Raystown Lake is marked with large mile markers. Fish between mile markers 19-28 in the spring.
Tips
•
Spring is the best time to catch stripers as they spawn during spring months, congregating in areas of the lake that resemble rivers. Use live trout bait.
•
During summer, fish near the dam and around the Seven Points area near the marina.
•
In the fall, fish often feed around rock piles, flats and at the dam. Use a lure, as several fish will strike at once, which would kill a live bait fish.
•
Trout fishing is typically best in May, June, October and November.
Rules & Regulations
Approved Trout waters: from dam downstream to Juniata River. 8 per day during regular season, 3 per day after Labor Day
Fishing Guides
•
Stan's Raystown Lake Guide Service 814-643-2917
•
Clapper's Guide Service 814-658-2122
•
"Lunker" Guide Service 814-669-8887
•
Spruce Creek Outfitters 814-632-3071
Annual Carpin for Kids Fishing Tournament, the last weekend in May – open to all children ages 0-15 at Seven Points Recreation Area. Sponsored by the Terrace Mountain & Independent Bass Masters.
Water Activities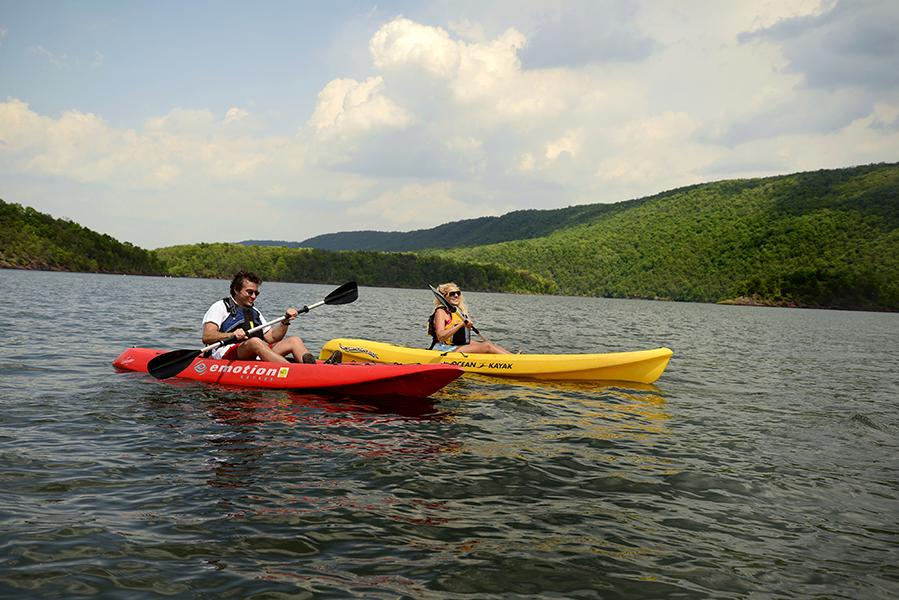 Start slow and dangle your feet over the edge of the houseboat's deck; float leisurely on an inner tube or raft at the back of the houseboat. No extra rentals needed! Just jump off the back deck into the crisp, clear water, or work up the courage to plunge into the water from the slide on the top deck of your houseboat (note: not all houseboats are equipped with a waterslide.) For swimmers, skiers and personal watercraft riders, wet suits are commonly used until the end of May, but the water temperatures rise to 75-80 in July and August, perfect for swimming!
Cliff jumping is also an exciting pastime of locals, and Sheep Rock Cliffs is a popular area that is ideal for doing so. Challenge your friends to a splash contest, and find out who in your group isn't as brave as you thought they were…
Dial up the adventure and take to the water on a speedboat or Jet Ski. Having a speedboat can triple the possibilities of fun activities on the water. Pull the kids on a tube behind the speedboat, squealing with joy; or water ski/wakeboard/kneeboard to ride the larger wakes.
Fishing skiffs
are available for rental at the marina; get a discounted rate when you rent one with your houseboat!
For those interested in scuba diving, stop by the Scuba Escapes Dives Center in Hesston - a full service dive shop located at Jim's Anchorage - for air and nitrox rental, sales and service.
Kayaking or paddle boarding is also a great way to explore the lake at a more leisurely pace. Paddle through the pristine clear blue water to experience the life of the lake at a closer view, and see areas only accessible by small craft.
Sightseeing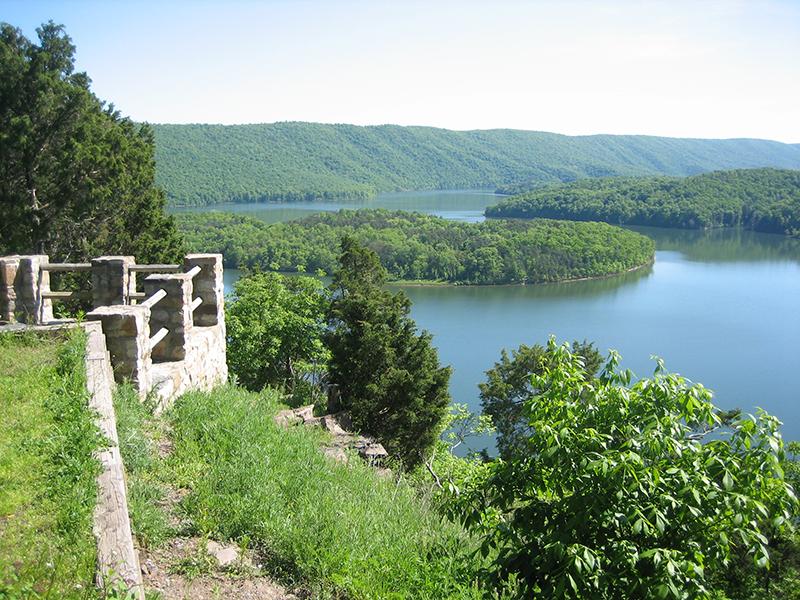 photo by Ed Stoddard
Raystown Dam
The first Raystown Dam began construction in 1907 and was completed in 1912. The second and current dam was reconstructed for flood control and finished in 1973 by the Army Corps of Engineers.
Ridenour & Hawn's Overlooks
Providing stunning views of the Dam and Raystown Branch gorge, these overlooks are especially beautiful at sunrise or sunset. The Camping Club of America voted this spot as one of the Top 100 Scenic Views in America.
Princess Lake Cruiser Sightseeing Cruises
•
Four hour dinner cruise of the lake. Includes meal, coffee and snacks. Visits Tatman Run to view fireworks by Lake Raystown Resort (Memorial Day, 4th of July and Labor Day weekends)
•
Weekend Sightseeing Cruises (end of May-mid October) learn about history of the lake as you travel toward the dam. Saturdays and Sundays 1:30-3:30pm. Soft drinks and snacks sold on board.
•
Private charters available
Caves and Caverns
Huntingdon County is home to Pennsylvania's largest concentration of caves and caverns with over 150 sites. There is no special equipment needed for guided tours.
•
Lincoln Caverns & Whisper Rock
•
Penn's Cave features a 50 minute, one mile underground boat ride 814-364-1479
•
Indian Caverns is Pennsylvania's largest Limestone Cavern almost a mile long, underground caves and gravel paths take you to view stalactites and stalagmites, as well as unusual formations like cave popcorn, helictites and rimstone. Tours sprinkled with authentic Indian History. 814-632-7578
Dining
At Seven Points Marina
•
Memories of the Lake Restaurant (full service)
•
Princess Cruiser sightseeing and dinner cruises
•
Ship store – for last minute items
Off Lake in the Area of Huntingdon, PA
•
Hoss's Steak & Sea House
•
Memories Sports Bar & Grill: award winning wings
•
Mimi's Restaurant & Martini Bar
Events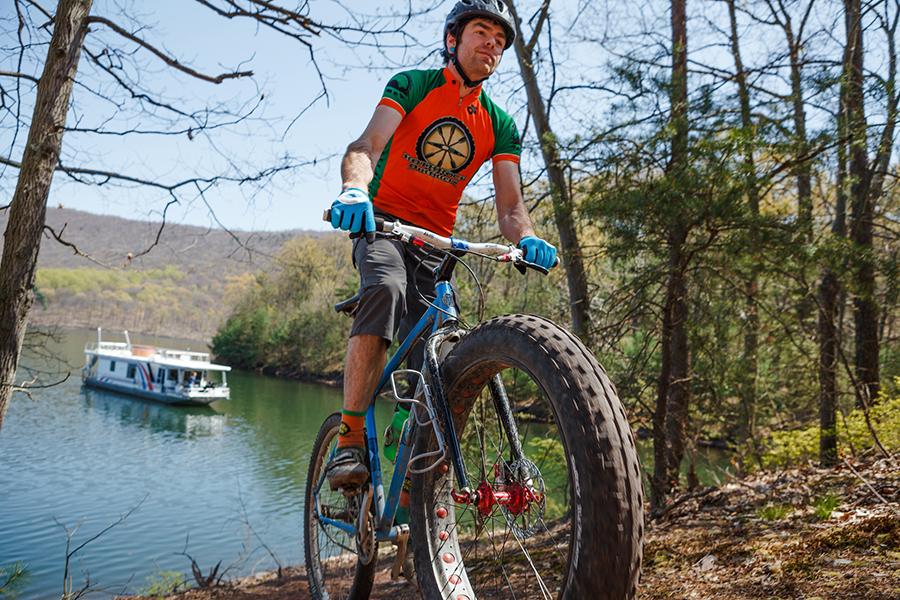 Huntingdon County Fair
Typically the second week of August each year, the fair features agricultural exhibits, food, rides, sideshows, demolition derbies, tractor pulls, entertainment, and antique farm equipment displays.
Farm Museum
The museum is open April-October by reservation. Exhibits farm equipment, household items and farm toys that display agricultural heritage. Seeing/touching/smelling is permitted and encouraged.
Holiday Fireworks
Fireworks are displayed by the Raystown Lake Resort on Memorial Day Weekend, July 3rd and the Sunday before Labor Day.
*Note: houseboats rented from Seven Points marina cannot visit this area, but the marina offers holiday tours to view the fireworks on their Princess Lake Cruise
DirtFest Mountain Bike Festifal
Taking place typically every 3rd weekend in May from Friday through Thursday, this mountain bike festival features clinics on sustainable trail building, maintenance and much more.
If you find yourself ready for more fun right after your unforgettable houseboat vacation, be sure to stop by some of the local attractions off the lake. For some animal adventure, visit the Terrace Mountain Alpacas (located in Huntingdon) - a family owned Alpaca farm where you can get "up close and personal" with the alpacas on free tours. If you prefer your fun at a faster pace, visit the DelGrosso's Amusement Park (located in Tipton) - or the Huntingdon Country Club Golf Course in Huntingdon for a relaxing day on the greens.
*Thumbnail photo by Michael Reed