Serenity Houseboat
Serenity Houseboat
The Serenity Houseboat has 3 bunk beds, 1 double over queen, 1 double over double and 1 single over single, in addition to a sofa sleeper providing bedding for as many as 11 guests. Your full galley includes a stove, an outdoor gas grill, microwave, refrigerator and bar. You'll also enjoy hot showers in the large bathroom complete with a vanity and full-size shower. Top it all off with air conditioning, a TV/DVD player and a generator to provide power, hot water, etc.
Get out on the water with the Serenity and enjoy the sights and sounds of the majestic Mississippi River.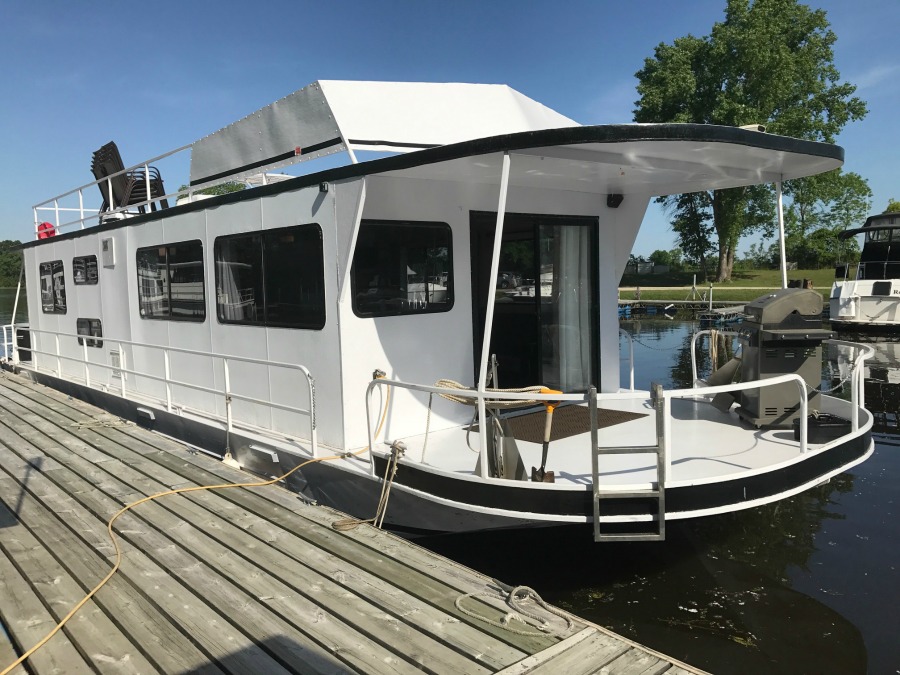 Length

52 feet

Width

14 feet

Capacity

11 persons

Staterooms

1 private (back bedroom)

Sleeps

11 persons

Bed Details

1 Bunk Bed (Double over Queen), 1 Double Bunk Bed, 1 Single Bunk Bed, 1 Single Pull-out Bed

Bathrooms

1 Full Bathroom

Trip Lengths

3 Day (Tuesday - Thursday)
4 Day (Friday - Monday)
7 Day Week (Mon-Sun or Tues - Mon)

Marinas

Mississippi River - Alma Marina
Please Note: The pricing information displayed below is subject to change (and it does change frequently). We endeavor to be as accurate as possible, but make sure you confirm pricing with your customer service agent before booking any trip.

Season
Dates
3 days midweek
4 days weekend
7 days
2021
Early Season
05/01/21 - 05/31/21
$1,050
$1,350
$2,400
Mid Season
06/01/21 - 06/28/21
09/07/21 - 09/27/21
$1,250
$1,650
$2,900
High Season
06/29/21 - 09/06/21
$1,495
$1,995
$3,490
Late Season
09/28/21 - 10/14/21
$1,050
$1,350
$2,400

**Pricing includes tax. Fuel, security deposit and optional damage waiver are not included. A cleaning fee might occur if the houseboat is returned excessively dirty.

3 Day (Tuesday - Thursday), 4 Day (Friday - Monday), 7 Day Week (Mon-Sun or Tues - Mon)
Special Features
Bedding
Dogs Permitted with fee
19' Flat Screen TV with DVD Player
Kitchen Features
Cookware
Plates, utensils, glassware
Coffee Maker
Toaster
Refrigerator
Microwave
Stove
Oven
Outdoor Gas Grill
Gas stove top and oven
Electric refridgerator
Mechanical Features
Generator
12 Volt Lighting
Power Outlets (110v)
Air Conditioning
Marine Radio
160 gallon fresh water tank
Twin Inboard/Outboard Mercury 120 hp motors
Twin 60 gallon fuel tanks
Below is a list of items that will be provided with your houseboat rental.
General Amenities
Gas Grill
Deck Tables and Chairs
Toilet and Hot Shower
Marine Radio
All Kitchen Utensils
Pots
Pans
Dishes
Glasses
Silverware
Knives
Bottle and Can Openers
Instructions
Operating Instructions
Navigation Maps and Charts
Upper Mississippi River Guidebook
Rules of the Road
Bedding & Linen (Except for towels)
Safety Equipment
Deck Chairs
Fresh Water Tank
Propane Gas Refrigerator
Stove and Gas Grill
THANK YOU!
Your request has been submitted.
One of our houseboat experts will be in contact with you shortly.
You can also call us toll-free at 888-454-8825 for quicker service.