A First Timer's Experience at Bull Shoals Lake
Author

Stacy

Category

Destinations, Guest Bloggers, New Places and Faces
A First Timer's Experience at Bull Shoals Lake
Last month we asked for fellow bloggers to share their houseboating experiences with us. This is a snippet of one of our amazing client's blogs...read and enjoy the experience of a first time houseboater on Bull Shoals Lake!
"Late 2011 I started thinking about what I wanted to do for a vacation with the kids this year…Not the 'my parents are paying for it' vacation, but the 'I've got this' vacation! We all love the water and so I thought we should get a cabin by the lake or something like that.
In my Google search, houseboating came up. Most of what I could find was out of our price range, but I finally decided to just call one of the places and discuss what might work for us. The lady was very helpful and mailed me some information. Due to the fact that we are a home schooling family, we had some more flexibility and could save money by booking the first week of 'off season' which happened to be perfect for us. I booked the trip and paid for the deposit in February, after getting my tax refund back. Being a single mom with three kids, it felt really good to do this by myself and gave me quite the sense of accomplishment! I ended up renting this boat!
My parents and my sister and her husband joined us for Monday/Tuesday/Wed. AM. The road trip to the lake was fun, but then again, we ALWAYS have fun on the road!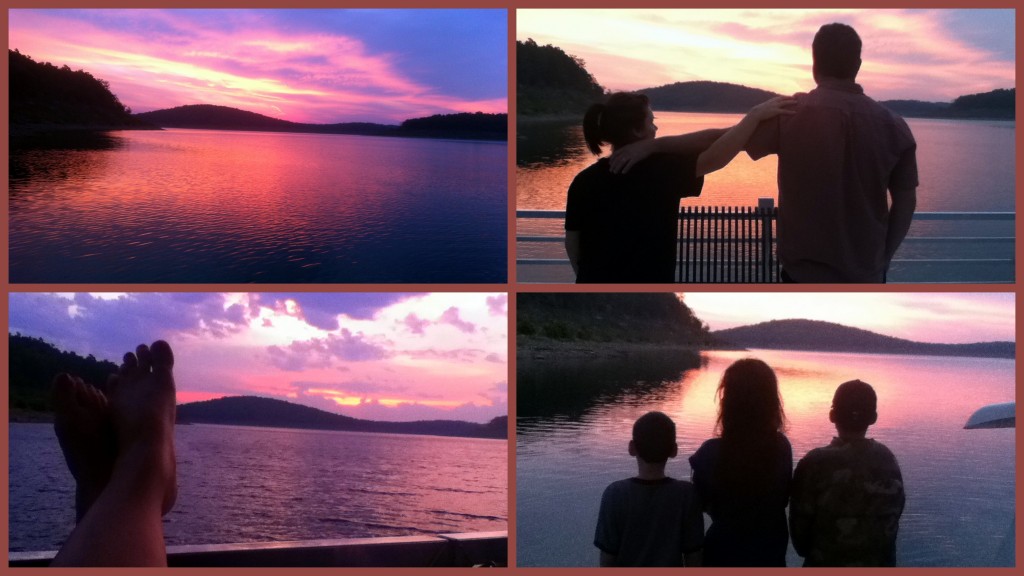 Some of the most beautiful sunrises I have ever seen. Harmony and Brian in the top right photo, my kiddos on the bottom, and my feet bottom left. I just really love the water and was so glad that I had family and friends around to enjoy it with me!
We had ducks visit, and the boys went out on the boat with Pa-paw several times with only a little bit of luck. However, when the kids fashioned a hook on a string attached to a roll of paper towel, they hit the JACKPOT! They were catching fish left and right at that point! They had so much fun!...."
To read more about Sarea's exciting adventure, head over to her blog The Busy Nothings. To plan your own first time houseboat experience, call us at 888-454-8825 or, as always, contact us online!