Lake Mohave- A Central Hub for Fun
Author

Gina

Category

Destinations, Good News 'n Stuff, Things to Do
Lake Mohave- A Central Hub for Fun
Located 30 minutes north of Laughlin, Nevada and Bullhead city, Arizona, you will find a 67-mile stretch of the Colorado River called Lake Mohave. Lake Mohave is a narrow body of water approximately 4 miles wide and its majority is nestled between the steep canyon walls of Pyramid, Painted, Eldorado and Black Canyon. Three of America's four desert ecosystems-the Mohave, the Great Basin, and the Sonoran Deserts meet in Lake Mead National Recreation area administered by the National Park Service. Named for the Mohave Indians who previously inhabited this region of the Colorado River Valley, Lake Mohave offers a variety of recreational opportunities including boating, houseboating, jet-skiing, kayaking, canoeing, fishing, scuba diving, swimming, hiking, sightseeing, relaxing and more!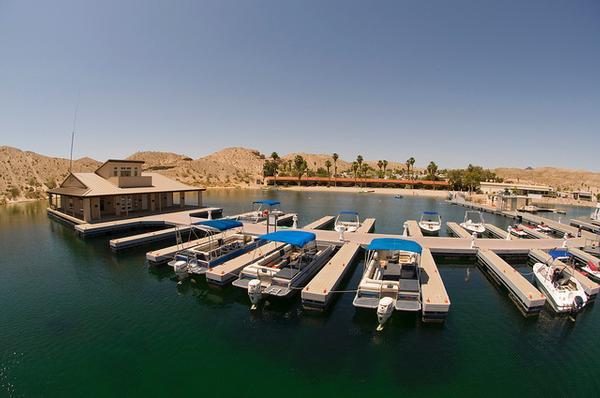 Lake Mohave has 237 miles of shoreline with terrain ranging from sheer cliffs of superb kaleidoscopic rock to snow white sandy beaches and sequestered coves. The best part of Lake Mohave is that it can be enjoyed year round. January is the coolest month with an average temperature of 60 degrees Fahrenheit; July has been known to reach 105 degrees Fahrenheit and higher, so make sure to stay hydrated! The parks heat is not something to underestimate; during extreme temperatures the park issues excessive heat warnings, advising visitors to participate in outdoor activities wisely.
If you are looking for the works while vacationing on Lake Mohave, consider renting a houseboat, speedboat and/or personal watercraft; a great way to explore more of the lake including more remote destinations only accessible by boat. Cruise up the Colorado River near the base of the Hoover Dam which creates one of the largest man made lakes in the country. *You will be able to get close enough to view the dam, however, you will want to check the seasonal schedule at the marina that will indicate when passage is permitted past Willow Beach in order to approach the base of the Dam. After a long day of playing on the water, moor your houseboat to the shoreline and enjoy a picnic on one of the many private beaches at Lake Mohave. While some people prefer to stay onboard the houseboat or speedboat, others enjoy branching off on their kayak or canoe and paddling down the river, hearing only the whispering breeze through the canyon walls and the tranquil trickle of the water washing over the pebbles onshore.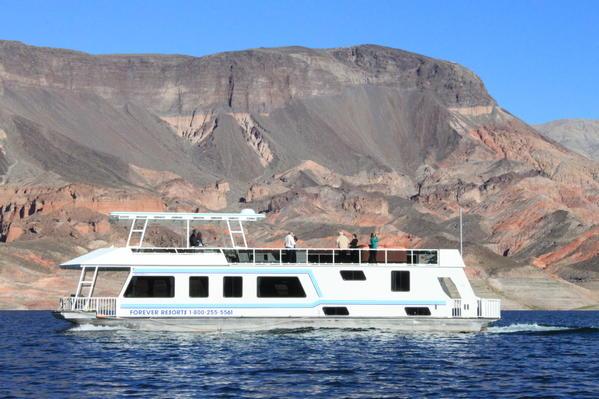 Known for its "Big Kahuna" catches, if fishing is on your agenda, you have come to the right place! Rainbow trout are found in the cool, clear waters at the upper end of Lake Mohave, while Largemouth and Striped bass are taken from lower areas of the lake. Lake Mohave has both native and introduced fish enhanced by the Nevada Division of Wildlife program which places habitat bundles in coves around the reservoir. These fish include Rainbow trout, Largemouth bass, Smallmouth bass, Striped bass, Crappie, Channel catfish, Common carp and Thread fin shad. The habitats are composed primarily of bundled salt cedar trees attached to wooden pallets which offers cover for sport fish. To fish within the states of Nevada or Arizona, you must carry with you a valid fishing license. If your license is for Arizona, and you plan to fish from a boat or other craft on the lake or shoreline of Nevada, then you must have a "use stamp" from Nevada (and vise-versa). A trout stamp will be required in addition to any other use stamps if you intend to catch trout. You can purchase licenses from the marina, online or at a local bait and tackle shop.
Location, location, location! Lake Mohave is a central hub for fun! If you feel like exploring some Ancient Indian petroglyphs and other historical phenomena, take a short drive just west of the resort toward the main highway to Las Vegas. This unpaved detour up Christmas Tree Pass lures hikers in from all around to view these ancient Native American carvings.
Whether you spend a couple of days or a couple of weeks, you will discover that Lake Mohave is an ideal, year round destination where you can combine water recreation, historical sites, relaxation and Las Vegas style entertainment. A true gem that the entire family will enjoy. Call us at 888-454-8825 or Contact Us Online today to start planning your adventure!