Presidential Houseboat
Presidential Houseboat
The Presidential Houseboat is more affordable and compact than some of the other houseboats on the lake, but can still accommodate 16 people. This compromise between luxury and price ends in excellent results on both sides. As a party boat, the Presidential is glorious, but not too rough on the wallet - which is probably why it's the most popular boat in the fleet.
The penthouse sleeps four to six people and the lower deck has two double gaucho beds as well as double bunks and single bunks. Two full bathrooms and a large kitchen add to the comfort - and there are no less than two refrigerator/freezers in the kitchen. A command bridge up top and a gas barbecue on the foredeck give a more outdoor flavor to your experience.
You'll enjoy the water slide for getting into the water and the swim ladder for getting out. A sun deck is an excellent place to dry off after a long day of paddling. When you're ready to really settle down, a TV/VCR and a CD stereo lets you relax to either movies or music.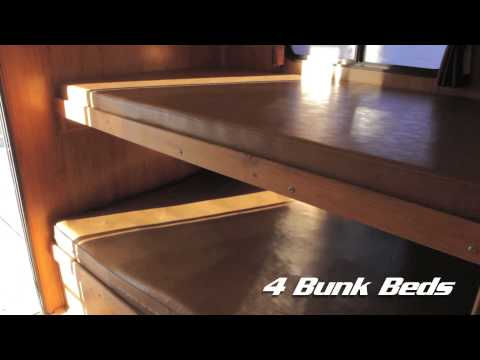 Presidential Houseboat
Length

53 feet

Width

15 feet

Capacity

16 persons

Staterooms

1 Penthouse (Sleeps 6)

Sleeps

16 persons

Bed Details

1 Single Bunk Bed, 1 Double Bunk Bed, 2 Double Pull-out Beds and a Penthouse with Wall to Wall Mattress

Bathrooms

2 Full Bathrooms

Trip Lengths

3, 4 and 7 Nights

Marinas

Shasta Lake - Silverthorn Resort
Please Note: The pricing information displayed below is subject to change (and it does change frequently). We endeavor to be as accurate as possible, but make sure you confirm pricing with your customer service agent before booking any trip.

Season
Dates
3 nights
4 nights
7 nights
2019
Summer
06/13/19 - 08/14/19
$2,790
$3,390
$3,990
Fall
08/15/19 - 12/31/19
$1,790
$2,090
$2,290

Prices do not include fuel or any other deposits or fees. This houseboat rental includes up to 4 vehicle parking passes; additional vehicle passes are $7 per day. Must be 21 or older to rent this houseboat.

**

May Weekends have Cash deposit due upon arrival ($3000 Executive, Senator, Presidential and $5000 Queen, Queen I, Queen II)
Special Features
TV
DVD
Stereo / CD Player
Sun Canopy
Deck Furniture
Upper Deck Driving Helm
Cooler
Slide
Kitchen Features
Cookware
Plates, utensils, glassware
Coffee Maker
Toaster
Refrigerator
Microwave
Stove
Oven
Outdoor Gas Grill
Dishwasher
Trash Compactor
2 Refrigerator / Freezers
Mechanical Features
Generator
12 Volt Lighting
Power Outlets (110v)
Water Heater
Air Conditioning
Furnace / Heater
A/C unit
Accessibility Features
The Presidential bathroom is wide enough for a wheel chair and has a bath tub, but no bars around toilet
Below is a list of items that will be provided with your houseboat rental.
Onboard Supplies
2 Fry Pans
3 Sauce Pans
1 Large Pot
Baking Pan
Cookie Sheet
Colander
3 Mixing Bowls
1 Quart Pitcher
Measuring Cup
Spatula
Basting Spoon
Toaster
Bottle Opener
Coffee Pot
Cheese Grater
Can Opener
Cork Screw
Vegetable Peeler
Dishes
Silverware
Meat Fork
Butcher Knife
Paring Knife
Dish Soap
Dishwasher Soap
4 Rolls of Toilet Paper
Broom
Mop
Dust Pan
Bucket
Propane BBQ
THANK YOU!
Your request has been submitted.
One of our houseboat experts will be in contact with you shortly.
You can also call us toll-free at 888-454-8825 for quicker service.