Raystown Lake - Special Events
Raystown Lake - Special Events
Mayfest of Huntingdon
Saturday, April 25, 2015
9 a.m. to 5 p.m., rain or shine
Historic downtown Huntingdon PA
(814) 386-2638
mayfestofhuntingdon.org
Mayfest is the only festival of its kind in Pennsylvania. Stroll through our history with a different historical theme in each block. Mayfest presents living history programs with period-correct dancing, music, re-enactors and demonstrations. Children's activities and educational fun are in abundance along with great food and craft vendors. Free music on every block, costumes, carriage rides, plus a quilt show and sale & arts show and sale. FREE ADMISSION! FREE PARKING! 2 blocks from Huntingdon Amtrak station.
The Allegrippis Trails at Raystown are about 33 miles of stacked-loop multi-use trails for use by mountain bikers, hikers, and cross-country skiers. (Named after the ridge on the west side of Raystown Lake.) The trails were built by the International Mountain Bicycling Association through a unique partnership that includes the non-profit Friends of Raystown Lake, Raystown Mountain Bicycling Association, US Army Corps of Engineers and many other supporting organizations. A popular mountain bike club event: Dirt Rag Dirt Fest is May 15-17, 2015 at the Allegrippis Trails at Raystown Lake. dirtragdirtfest.com or allegrippistrails.com or raystown.org/allegrippis-trails
A Triathalon is planned for Sunday, May 17, 2015 in the Raystown Lake Region. The event is planned for Olympic length / 1/2 Iron Man competition length. Based at Lake Raystown Resort - An RVC Outdoor Destination. Up-to-date information can be found at www.lakeraystowntri.com
2015 Discovery Days at Lincoln Caverns and Whisper Rocks -- tour 2 cave systems with 1 ticket price! The 85 year anniversary of the DISCOVERY of the cave! The 11th Annual DISCOVERY DAYS at Lincoln Caverns and Whisper Rocks; June 27 and June 28, 2015 9:00 a.m.-5:00 pm. Just once a year, enjoy special historic tours, workshops, childrens activities and fun for the whole family at special prices too! Open 9 AM - 5 PM each day. No advance tickets/registration required. For more information contact Lincoln Caverns at (814) 643-0268 or visit www.lincolncaverns.com
Come to the Keystone Country Cruisin' Vehicle Show on July 4 weekend, 2015 at the Huntingdon County Fairgrounds! Enjoy antique, classic, and street rod cars. Plus...trucks, bikes, and tractors! Also throughout the weekend, experience entertainment, food, games, vendors, and camping. Planned events include a burn out contest, rod jousting, muffler rappin, a poker run and neon show. Camping at the Fairgrounds opens early for the event. For more information call (717) 248-2278 or click to http://www.tnts1.com/events/keystone_country_cruisin
Oktoberfest! In Cassville
September, 2015
Downtown Cassville, Cassville PA 16623
A down-home festival with homemade kettle soup, apple butter, vendors, exhibitors and entertainment sponsored by the Trough Creek Fire Company and Trough Creek Lions Club. www.facebook.com/CassvilleOktoberfest
The annual "Raystown Art Open" Art & Music show Hosted at the Lake Raystown Resort, Lodge & Conference Center - an RVC Outdoor Destination; September 2015. Artists from the Raystown Lake Region will be displaying their artwork at Lake Raystown Resort, Lodge & Conference Center. Artists are welcome to display their work for free from 1:00 pm-6:00pm during the FREE PUBLIC Art Exhibition. There are free classes & demonstrations starting at 1:00 pm from artists in various mediums. Artists may choose to enter the juried competition which will be judged between 6:00 p.m. with awards following 7:00 pm. Live music will entertain attendees from 6:00pm until 9:00pm. www.raystownartopen.weebly.com
Central PA Ragtime Festival 2015
September 25-27, 2015
www.rockhillragtime.com
http://bit.ly/CentralPARagtimeFest
430 Meadow Street, PO Box 203 Rockhill Furnace 17249
(814) 447-3984
Enjoy great ragtime music just like it used to be played by some of the top ragtime musicians in America June, 2015. Concerts, silent movies, professional and amateur performers, trolley rides all amount to a great festival of living history. The Rockhill Trolley Museum will be hosting this event. The event will be held rain or shine.
32ND ANNUAL GHOSTS & GOBLINS HAUNTED CAVE & TRAIL AT LINCOLN CAVERNS
October 9-October 31, 2015
Lincoln Caverns & Whisper Rocks
7703 William Penn Highway, U.S. Route 22
Huntingdon PA 16652
http://bit.ly/2014LincolnCavernsGhostsGoblinsTour
(814) 643-0268
40th Annual Hartslog Day in Alexandria, PA
Sat. October 10, 2015 8:00 am - 5:00 pm
Join us for the 39th Annual Hartslog Day in Alexandria on Saturday, October 11, 2014 from 8am-5pm. Enjoy food, music and games throughout the day. More than 200 craftspeople, special events, museum exhibits and childrens activities are planned. Admission is free! To visit Hartslog Day on facebook: https://www.facebook.com/pages/Hartslog-Day-Heritage-Festival/164055000347632 For more information call (814) 207-1410 or email [email protected].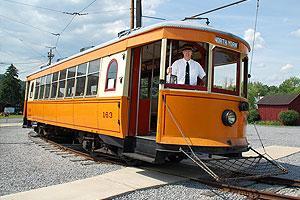 Rockhill Trolley Museum
ROCKHILL TROLLEY MUSEUM FALL SPECTACULAR
October 10-11, 2015
PA Route 994 just off Route 522
www.rockhilltrolley.org • (814) 447-9576
One of the Rockhill Trolley Museum's biggest events of the year is extra spectacular this year with WPSU and Daniel Tiger making a special appearance on October 11 along with the historic trolleys running excursions for visitors throughout the event. Some special trolleys only available once per year are brought out for display or rides during the fall spectacular weekend. Check out the trolley museum and gift shop for artifacts and souvenirs highlighting "back-in-the-good-ol'-days" when trolleys were used in many major cities as the primary public transportation. A Saturday special feature this year is the visit by WPSU and Daniel the Tiger of Mr. Roger's fame -- who will be appearing with the full-size trolley owned by the Rockhill Trolley Museum that resembles the trolley from Mr. Roger's neighborhood. Trolley excursions and museum open both Saturday, October 11 and Sunday, October 12. We'll see you there! "DING DING"
Bicycle Times Adventure Fest
October 9-11, 2015
Raystown Lake, PA
base camp at Lake Raystown Resort - An RVC Outdoor Destination
http://bicycletimesmag.com/adventurefest/
Grab a friend and a bike and join us at Raystown Lake for an unforgettable weekend of adventure. From smooth blacktop to whisper quiet gravel roads, the Adventure Fest has something for everyone. Throughout the weekend you'll have chance to not only ride with friends, but you can also check out demo bikes, gear, and attend clinics to whet your appetite for more two wheeled fun. Take in a bike movie on Friday night and then enjoy live music on Saturday night. Sunday will come too soon and you won't want to leave. Choose a road ride of 25, 37, 66, or 102 miles or a gravel route of 50 or 80 miles. A portion of the proceeds from Adventure Fest go directly to support the Allegrippis Trails System at Raystown Lake, through the Friends of Raystown Lake Trails Fund. Thus far our sister event, DirtFest, has donated nearly $20,000 to the trails which keeps them open and maintained. Registration at https://www.bikereg.com/btaf
For more information:
Huntingdon County Visitors Bureau
(814) 658-0060 (voice)
(1-888-729-7869) toll free