Welcome Trent-Severn Waterway
Author

Heather

Posted On

Nov 3, 2023

Category

Destinations, Good News 'n Stuff, New Places and Faces, Things to Do
Welcome Trent-Severn Waterway
Launch into the journey of a lifetime on the Trent-Severn Waterway in central Ontario. You'll start your adventure in Peterborough, midway along the Trent-Severn Waterway cruising area on the Otonobee River - the perfect departure point whether you're looking for a short getaway or a longer venture.
The Trent-Severn Waterway spans 386 kilometers (~240 miles) that combines natural wonders, rich history, and marvels of engineering. Stop at picturesque towns and vibrant cities along the way, and take in the natural beauty of the Canadian countryside in between.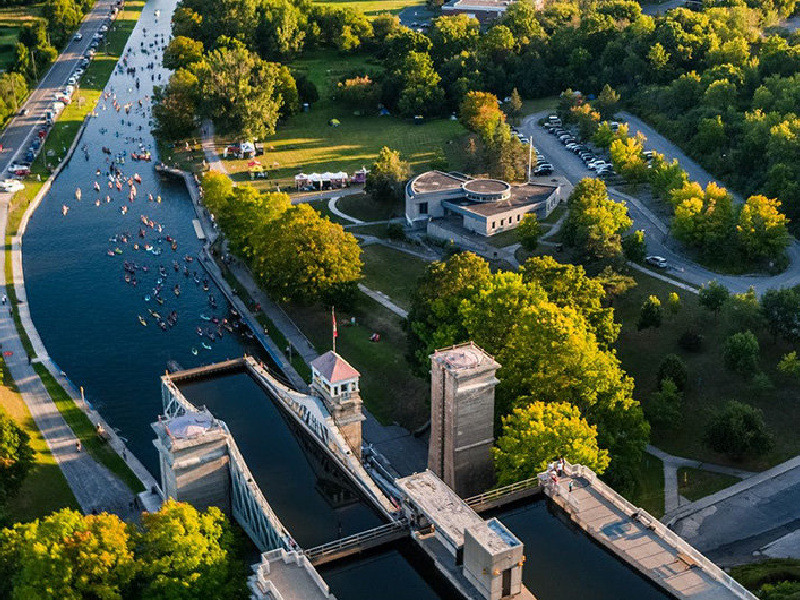 Whether you're looking for a leisurely cruise with natural views, fishing, paddleboarding and canoeing - or the excitement of towns full of history, shopping, and culture, the Trent-Severn Waterway and Kawartha Lakes has something for everyone.
Once you're out on your houseboat, you're free to explore the waterway however you'd like, but a comfortable pace will average 2-4 hours of cruising each day. You can travel as far west as Kirkfield, and far east as Trenton; it would take you about 2 weeks to travel to one end and back.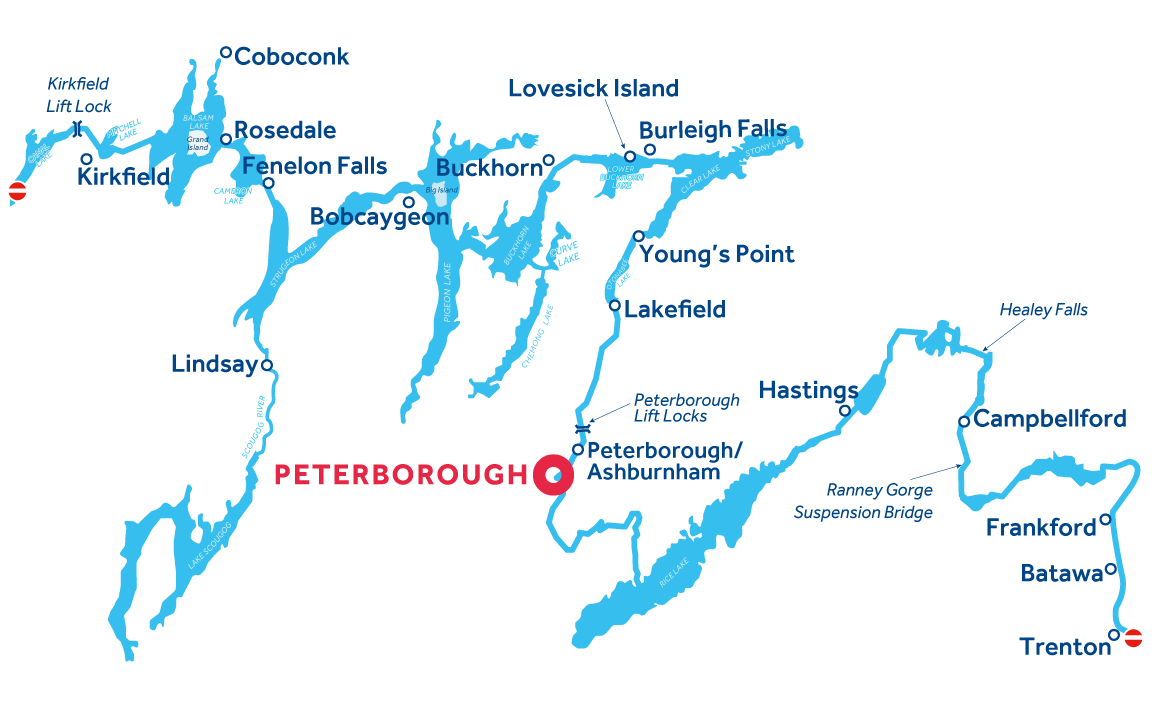 Sample Itineraries:
North of Peterborough:
7 nights, 184 km, 25 hours of cruising, 24 locks
Peterborough Lock Lift (Lock 21) is one of two hydraulic lift locks on the waterway and the highest lock lift in the world!
Lakefield - great for nature lovers. With lakes/rivers, lush forests, and scenic trails and boardwalks along the Otonabee River in this charming town.
Young's Point (Lock 27) is a popular overnight mooring location next to a beautiful park, and great fishing.
Burleigh Falls is a great place to canoe and fish; the rapids are a favorite for kayakers
Lovesick Island/Lovesick Lock (Lock 30) is only accessible by boat, a popular overnight stop.
Buckhorn: visit the Adam and Eve rocks, the large rocks left behind by a glacier with a legend: that if a couple holds hands and touches them, their lives will be eternally blessed.
Bobcaygeon is famous for being home of the first lock in 1834. There is something for everyone: enjoy high-end shopping, Bigley family of shoe and clothing stores, and grab an ice cream cone at Kawartha Dairy. Visit the beach or cozy shops next to the lock.
South of Peterborough:
7 nights, 195 km, 22 hours of cruising, 12 locks
Peterborough/Ashburnham: known as Electric City - with great shops and restaurants, and local bakeries with the region's famous Butter Tart Tour
Hastings: offers a great mix of small-town charm and outdoor adventure with great fishing
Healey Falls: walk to the dam, a short distance from the lock. If the gates are open, you'll experience the power of the water crashing through the gates down the rocky steps into the waterway.
Campbellford is a picturesque town with quaint shops, restaurants, and boutiques. Other attractions include a swing bridge, the Memorial Military Museum, and a giant replica of Canada's two-dollar coin. The town also has famous donuts, a cheese factory, and chocolate plant.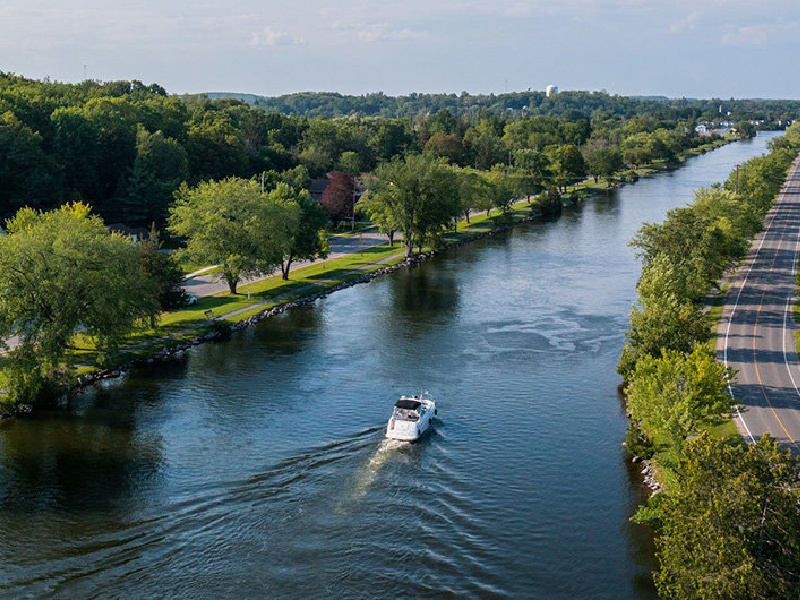 Start planning your getaway today! Give us a call at 888-454-8825 or Request Information Online and an agent will contact you.