An Expert's First Houseboating Experience on Lake Mead
Author

Heather

Category

Destinations, Tricks of the Trade
An Expert's First Houseboating Experience on Lake Mead
Never having been on a houseboat vacation, there's virtually no way to truly prepare for the experience other than to, well...go. Even the experts benefit enormously from first hand experience so we can pass on our wisdom (and learning curves) to you for your vacations.
I chose to visit Lake Mead in Nevada for my first houseboating adventure. Lake Mead placed second in the top houseboating destinations in the country, and I had never been! (Shame on me.) The lake was much more scenic than I had anticipated. To say it was beautiful is an understatement. We cruised in awe from our houseboat at the stunning rock cliffs that outline the water. It was an enchanting oasis only 40 minutes from the excitement of Las Vegas.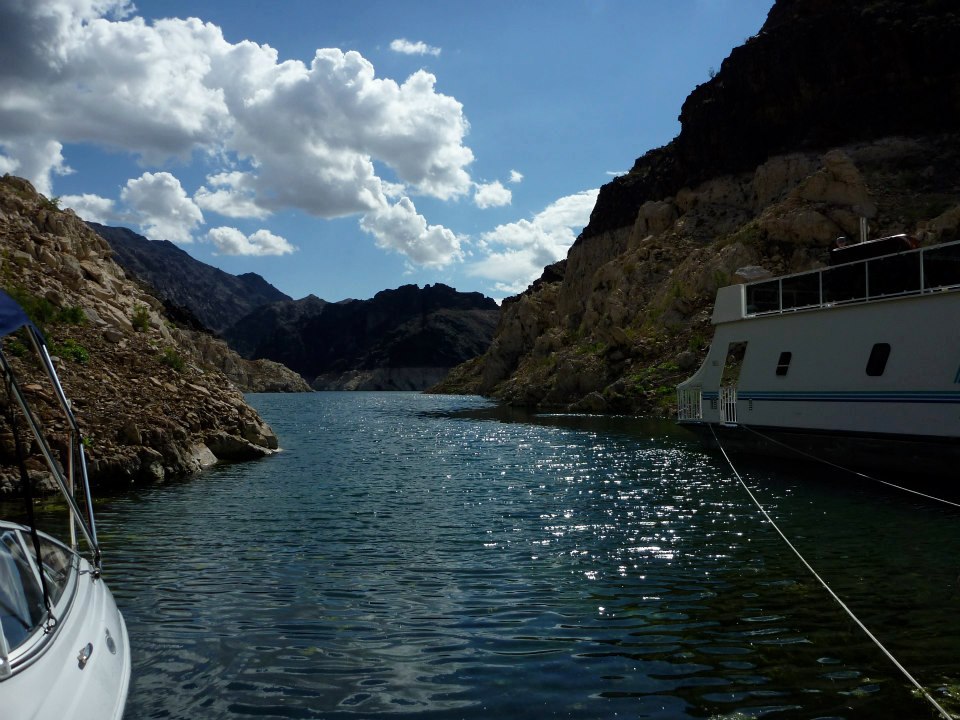 We went in early October to avoid the crowds and the sweltering desert summer heat. Word on "the street" is that Septemberand October is the perfect time to go if you have the capability to vacation later in the year. The advice was absolutely spot on. Not only was the outside temperature 85 degree perfection, but the water was nice and warm as well.
What to Expect:
Checking In: Upon arrival, the marina had a few items of quick paperwork for us to sign. They provided us with a map of the lake and showed us the area. They mentioned a few good places to moor to shore, as well as some places and landmarks to steer clear of. We were given our houseboat number and headed back to the car with handcarts to unload all of our stuff. It was no secret we were extremely over-prepared.
Orientation Process: After our final handcart trip from the car, we were met by another member of the marina staff to go over the specifics of operating the houseboat. We were instructed on starting 'er up, the actual driving of the monstrous 70' Titanium houseboat, mooring techniques, and instructions for filling up the hot tub. They answered every question we had, and made sure we were comfortable. Of course, if any questions were to arise later, there was a handbook with instructions on the houseboat, and a marine radio. Just in case.
Stay at the Marina: Where most vacations are "go, go, go," a houseboat vacation gives you a chance to slow it down and go at a nice relaxing pace. Lake Mead offers Early Boarding on their houseboats for an extra charge, which allows you to load and stay on your houseboat at the marina your first night, then head out on the water first thing the next morning. It came in handy as we had some stragglers in our group that couldn't make it to the marina before dark.
What Surprised Us:
Travel Time on the Water: We didn't anticipate that we would need a ski boat, but we were surprised at how much it really came in handy. After we left the marina, we sent a couple of people from our group up ahead in the ski boat to scout some good coves to moor the houseboat. We drove the houseboat about an hour and a half from the marina, and found a beautiful long cove that we would call home for the next 3 days.
We were expecting to be moving the houseboat and exploring other parts of the lake each day to stay in a new area each night. But after we moored, although it wasn't difficult, we realized it could be time consuming if we moved the houseboat each day. We decided to use the ski boat as our main mode of exploration. It got us around much quicker, and served as our entertainment for tubing and water skiing. Using the houseboat as a home base and the ski boat as our way around saved us money on fuel.
Group Size: The four of us were spoiled with a 12 person houseboat, mainly because the rest of the initial group couldn't join us. In the end, we were glad to have the extra space (and a full bathroom for each couple.) Just as in camping, it's imperative to be deliberate in choosing which people to bring along. Choose wisely, and make sure there is enough room on the houseboat for everyone to be comfortable (a good ratio between number of beds/bathrooms to number of people.)
What To Do: We expected to constantly need to keep ourselves occupied while on the houseboat, but we entertained ourselves with surprisingly little. We brought all sorts of board games and DVD's that never made it out of their boxes, as we spent most of our time in the water. Our days were spent speeding down the slide and swimming up and down our cove, or tubing off the back of the ski boat. And at night we relaxed and gazed in wonder at the immense cover of stars from the hot tub on the top deck.
Just like any other vacation, preparation is one thing but experience is quite another. We know you'll have lots of questions while you're busy preparing for your own houseboat vacation. We are here to make it as easy as possible.. Don't be shy, give us a call at 888-454-8825 or Request Information online. We're happy to help. After all, we've all gone through it!
Other seasoned experts out there, what are some things that surprised you on your first houseboat vacation?