Excitement Awaits Throughout the Year on Lake Powell
Excitement Awaits Throughout the Year on Lake Powell
In the words of legendary surfer Laird Hamilton, "Do not be afraid of death. Be afraid of the half-lived life!" For those trying to get the most out of their Lake Powell vacation, there are a host of events on the lake throughout the year that whether or not you participate in, they can inspire you to work harder, give more, or simply enjoy more of life's bounty.
Winter events
Starting off in January, our friends at Antelope Point marina host a Polar Bear Plunge. You might be surprised that a desert oasis like Lake Powell has some very cold temperatures that time of year and it is definitely not for the faint of heart! If that's a little too chilly for you, then it's a great time of year to photograph Antelope Canyon.
Spring events
As spring brings warmer waters and more visitors there are regular activities that may include live music at nearby restaurants in Page and a variety of competitions, holiday and cultural celebrations. The Page, Arizona high school hosts a Pow Wow and in Kanab, Utah (about 1 hour west of the Wahweap and Antelope Point marinas), Amazing Earthfest takes over for a week in May celebrating all things about the Colorado Plateau, a geographic feature on which Lake Powell, Zion National Park, and countless wonders of the Grand Circle are all situated on. Like most festivals, it includes performances, food, music, and presentations.
In some years Lake Powell also hosts larger music festivals such as the Dam Jam over Memorial Day Weekend and an on-water and off-water music festival called Powellpalooza.
Summer events
Summer is the best time of year for enjoying all Lake Powell's water activities. It's the time for swimming, skiing, paddleboarding and much more. There are water sport competitions, live music at times near the marinas, and much more. There's a farmer's market in Page, Arizona that has been growing larger and larger the past few years where visitors can stock up on local produce before heading out on their houseboat.
Autumn events
As the brouhaha of summer winds down, autumn has a number of events as well for visitors. In September there's the Lake Powell Challenge, a poker run type of event that allows boaters to see parts of the lake in a fun competition environment that benefits Juvenile Diabetes research. There's also the Big Water Dinosaur Festival to celebrate and learn more about the fossils recovered in the area and just enjoy being at the lake with family and friends. Another wakeboarding competition takes place over Labor Day weekend at the Antelope Point marina; and a Fall Fishing Festival as well.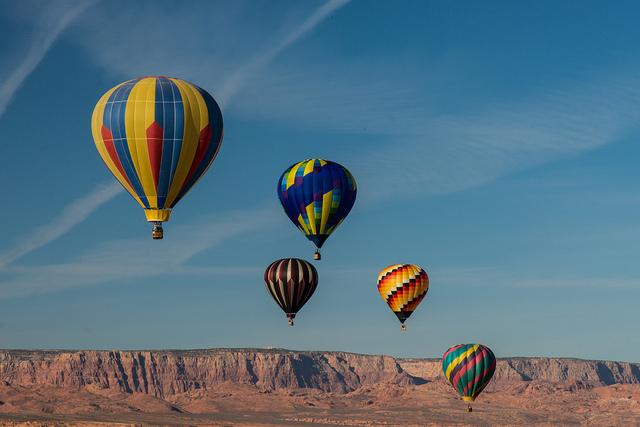 Page Balloon Regatta
Photo by:
Rick Bergstrom
October at Lake Powell is still very lively. For most, the weather this time of year is a perfect balance of not being too hot or cold to be out all day. A number of athletic events take place then, the Lake Powell Triathlon, the Lake Powell Half Marathon, and a softball tournament among other sports events. There's a motorcycle fest and also an antique tractor pull show, and an off-road challenge taking place in the vicinity.
Just as the weather begins to cool and the season really changes, Page hosts one of its biggest events of the year. The Balloon Regatta is famous and a spectacular sight to see from the water as hot air balloons of vibrant color fill the sky and soar over Lake Powell.
Winter events
To finish off the year the National Audubon Society conducts a Christmas bird count. Both wildlife experts and volunteers come to count as many different species as they can within a 15 mile radius that includes the southwest end of Lake Powell.