How to Choose the Best Houseboat for You
Author

Heather

Category

How To
How to Choose the Best Houseboat for You
It can be difficult deciding on a houseboat, since there are often several houseboats to choose from at most waterway locations across North America. And sometimes there are only minor details between them. So what makes a houseboat the best choice for you and your group? The houseboat you choose for your vacation will most likely depend on several factors, including: size, budget, and desired amenities. Consider the following tips when deciding on a houseboat for you and your group.
Size:
Compare the number of people that will be coming with you to the number and size of beds. Most houseboats have a floor plan photo on our website. Imagine where each person will be most comfortable. The last thing you want is to get a houseboat that's too small for your group.
Something else to consider, is that some houseboats have a "maximum capacity." For example, most Lake Powell houseboats have a maximum capacity of 12 people allowed on board while it's in motion. However, you may have more people aboard once the houseboat is moored to shore. This means if you have 14 people in your group, 2 will have to follow the houseboat in an extra watercraft such as a ski boat until the houseboat is moored.
Budget:
Many things can affect the cost of a houseboat: size, how long of a trip you're planning, and the time of year you plan to visit. Typically, prices are at their peak between Memorial Day and Labor Day weekends, but prices vary all year round based on the location you plan to visit and the marina you depart from. Some marinas offer length of stay discounts or other specials throughout the year. Visit our Specials Page for current information, or call a houseboat agent for more details.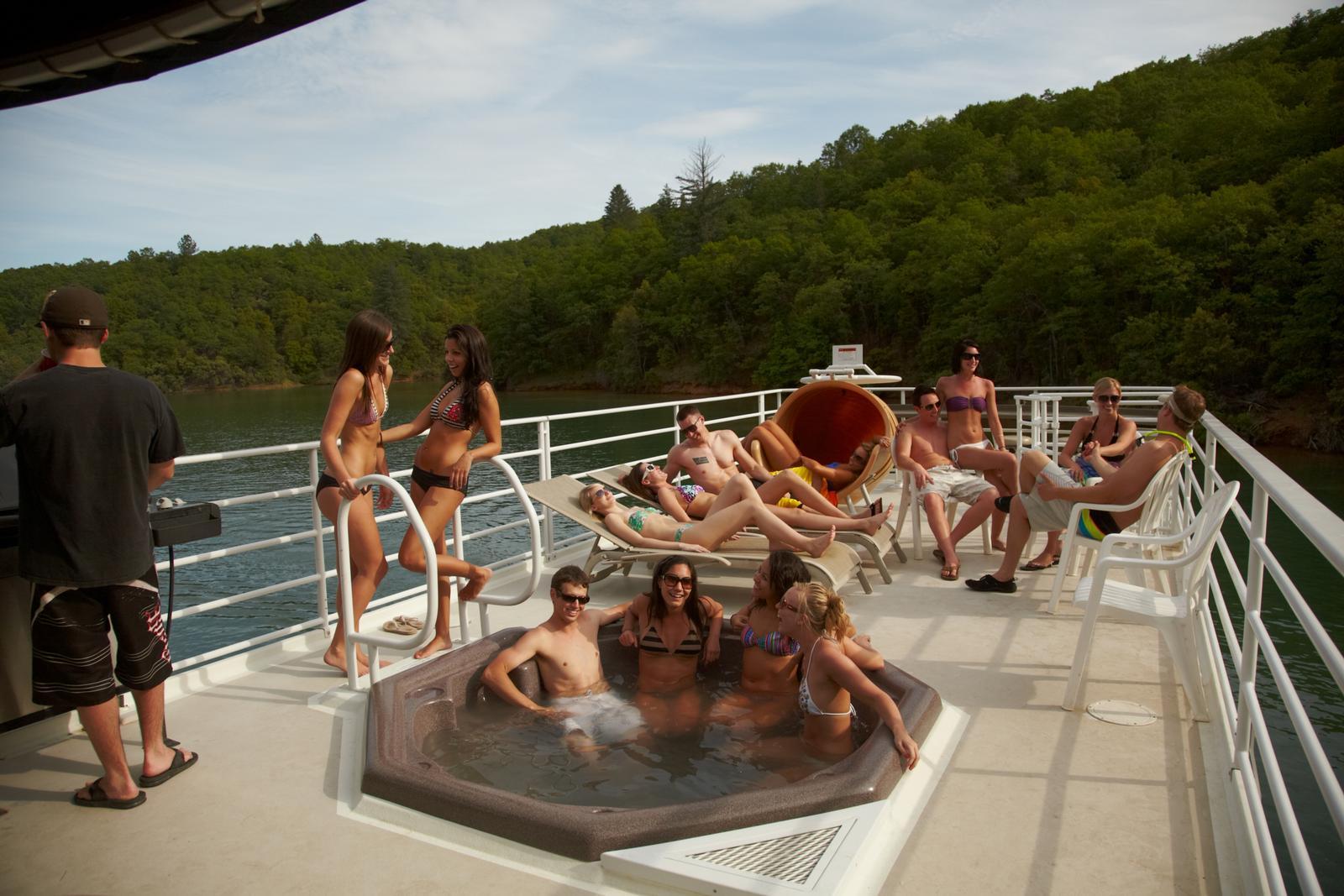 Amenities:
From standard to top of the line houseboats, there is something for everyone. Standard class houseboats are more basic in style, and economical in cost. Usually, these are our smallest houseboats for small groups and families. Deluxe class houseboats are generally a little larger, and have a few more amenities from our standard class houseboats. Some of these amenities can include: a remote fuel tank for extra water crafts, inverter systems or a captain's fly bridge, but each houseboat is different. If you're looking for something with a little more luxury, we have versions of luxury class houseboats at most locations. Luxury amenities can include: hot tubs, flat screen TV's, surround sound, etc.
Information for each houseboat model (photos, list of amenities, items provided, floor plans, and pricing) can be found on our website. Let us know if you have any questions about particular houseboats or we can help you with some suggestions that may work best for you and your group. Contact us today by calling 888-454-8825 or send in a Request for Information online.