Many Ways to Enjoy the Water at Lake Powell
Many Ways to Enjoy the Water at Lake Powell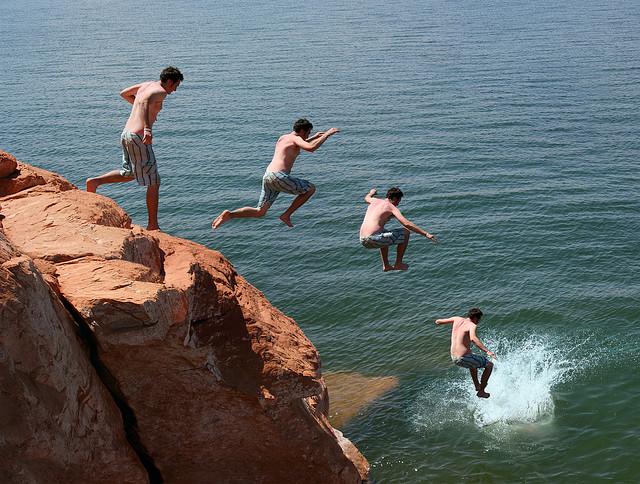 Cliff jumping at Lake Powell
Photo by:
Andres Rodriguez
More and more scientists are starting to discover what Lake Powell visitors already know—it is good for the soul! In Marine biologist Wallace J. Nichols new book, he says: "Water provides the most profound shortcut to happiness out there." We can actually prove now that just being near water makes us happier and healthier as well as a plethora of other benefits. Lake Powell visitors can reap those benefits through a variety of activities.
Water play
There are times when you may feel most content just dangling your legs into the water, sitting beside your best friends and enjoying the view of the sun setting on the rocks of Lake Powell. Your children will relish in building sand castles on the shore and also scream with joy when they jump off of a cliff.
Waterskiing at Lake Powell
Photo by:
Philms
Water sports
At times you may want to embrace the serenity of the smooth water and paddle off in a kayak or on a paddleboard and explore countless red rock canyons. If you want to hear the happy sounds of kids squealing with delight, give them a ride in a tube behind the speedboat!
For water sports enthusiasts, renting a powerboat provides the opportunity to water ski, wakeboard, kneeboard, and wake surf, until your legs feel like jello and you can hardly climb back into the boat. See our events page also to learn more about competitions taking place on the lake throughout the year.