Popular Lake Powell Attractions
Author

Gina

Category

Destinations, Good News 'n Stuff, How To, Things to Do
Popular Lake Powell Attractions
Sightseeing on Lake Powell is one of the most breathtaking things you will ever experience. Sparkling water surrounded by red rock cliffs gives the impression of floating in the Grand Canyon. With over 1800 miles of shoreline, kaleidoscopic colors everywhere you turn, and so much to experience, you'll likely have to return again and again!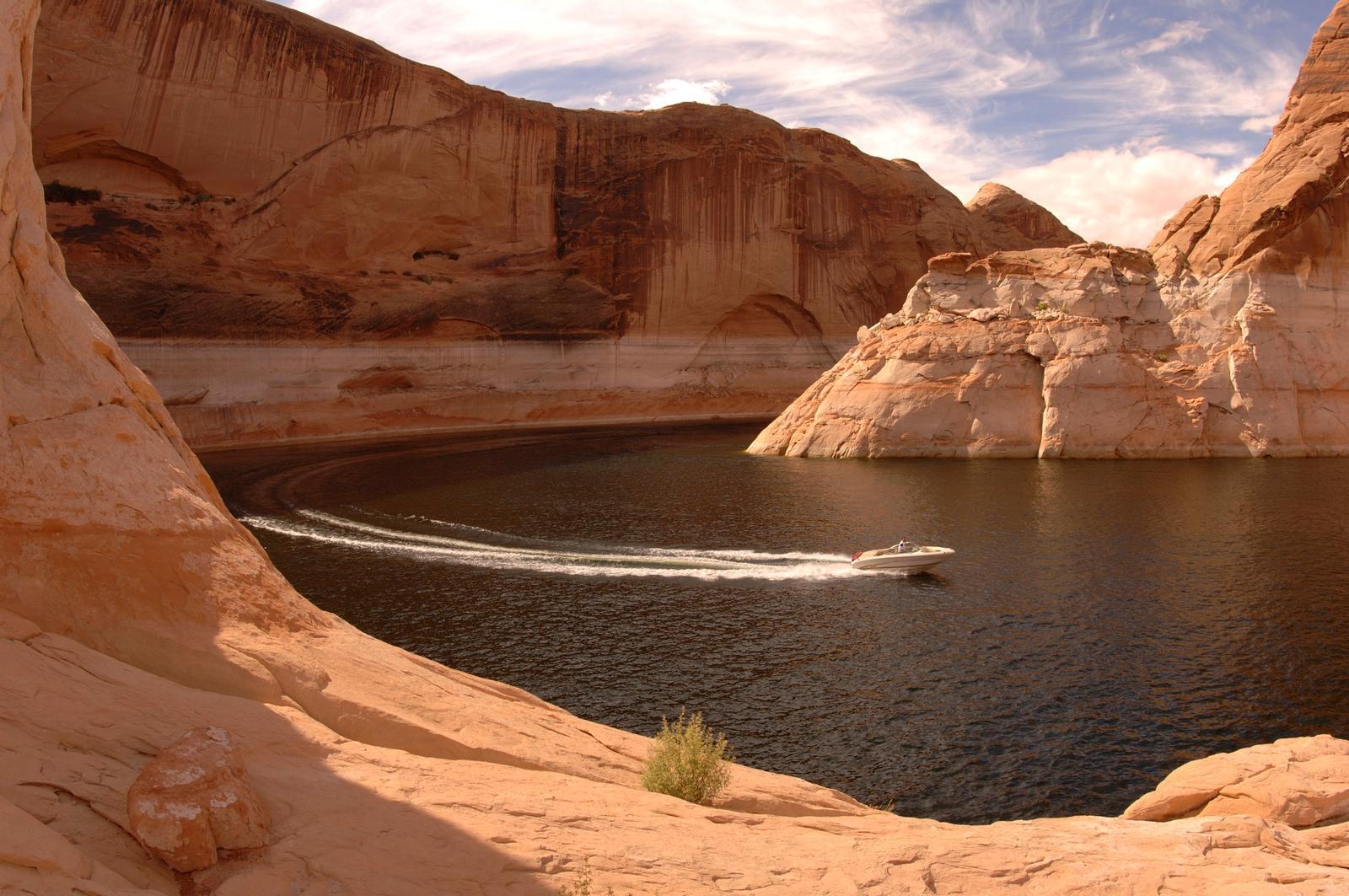 Rainbow Bridge is just one of the many majestic sights on Lake Powell. Created by wind, rain, and sand, this treasure is one of the largest natural bridges in the world and was named a National Monument by President Taft in 1910. Slot Canyons are to Lake Powell as slot machines are to Las Vegas- they go hand in hand. Nothing quite compares to the serenity you feel as you drive your houseboat between the mammoth sandstone walls as you look up, up, up to the sky feeling like a tiny speck on the water. Padre Bay is a well known area on Lake Powell, located on the south end of the lake near mile marker 22. The Padre Bay area is considered to be one of the most scenic on the lake. Photogenic rock formations here include; Gunsight Butte and The Cookie Jar. The historical "Crossing of the Fathers" happened here, where Spanish priests exploring what is now the Southwestern US, found a place they could descend into Glen Canyon and cross the Colorado River. The crossing is now under nearly 400 feet of water in Padre Bay, named for the padres Dominguez and Escalante. Other notable sights are the Cathedral in the Desert located at the back of Clear Creek Canyon, on the Escalante Arm about 23 miles down lake from Bullfrog. The Cathedral's sandstone walls arch upward to form a huge amphitheater presenting a narrow slit at the top. Hanging gardens grow from the cracks in the stone walls. A small stream falls down the cliffs face at the end and a narrow beam of sunlight bursts through the Cathedral illuminating the entire cavern with rich golden light. During times of lower water levels, many other interesting features can be admired in and on your way to the Cathedral such as; Anasazi ruins, rock art, arches, caves, slot canyons and streams. La Gorce Arch is in Davis gulch, a tributary of the Escalante River Arm of Lake Powell. Here you will see natural arches, bridges and rock formations. Navajo Canyon is located 9.5 miles up lake from Glen Canyon Dam on the East side of the main channel. This 16 mile Navajo Sandstone canyon is the longest side canyon on Lake Powell that is not a river arm. The mouth is near mile marker 10, however, campsites are limited. Driftwood accumulates toward the end of this canyon so boaters should have caution. Chaol Canyon splits off to the right at the end of Navajo Canyon where you will find waterfalls, petroglyphs and even a perfectly preserved dinosaur track. If the lake is at a level where silt is not a problem, you will access the 4 mile per way hiking route to the falls. Purchasing a Stan Jones Map from us will better prepare you with a destination in mind before embarking on your houseboat or exploratory journey, as there are hundreds of hiking trails, both marked and unmarked.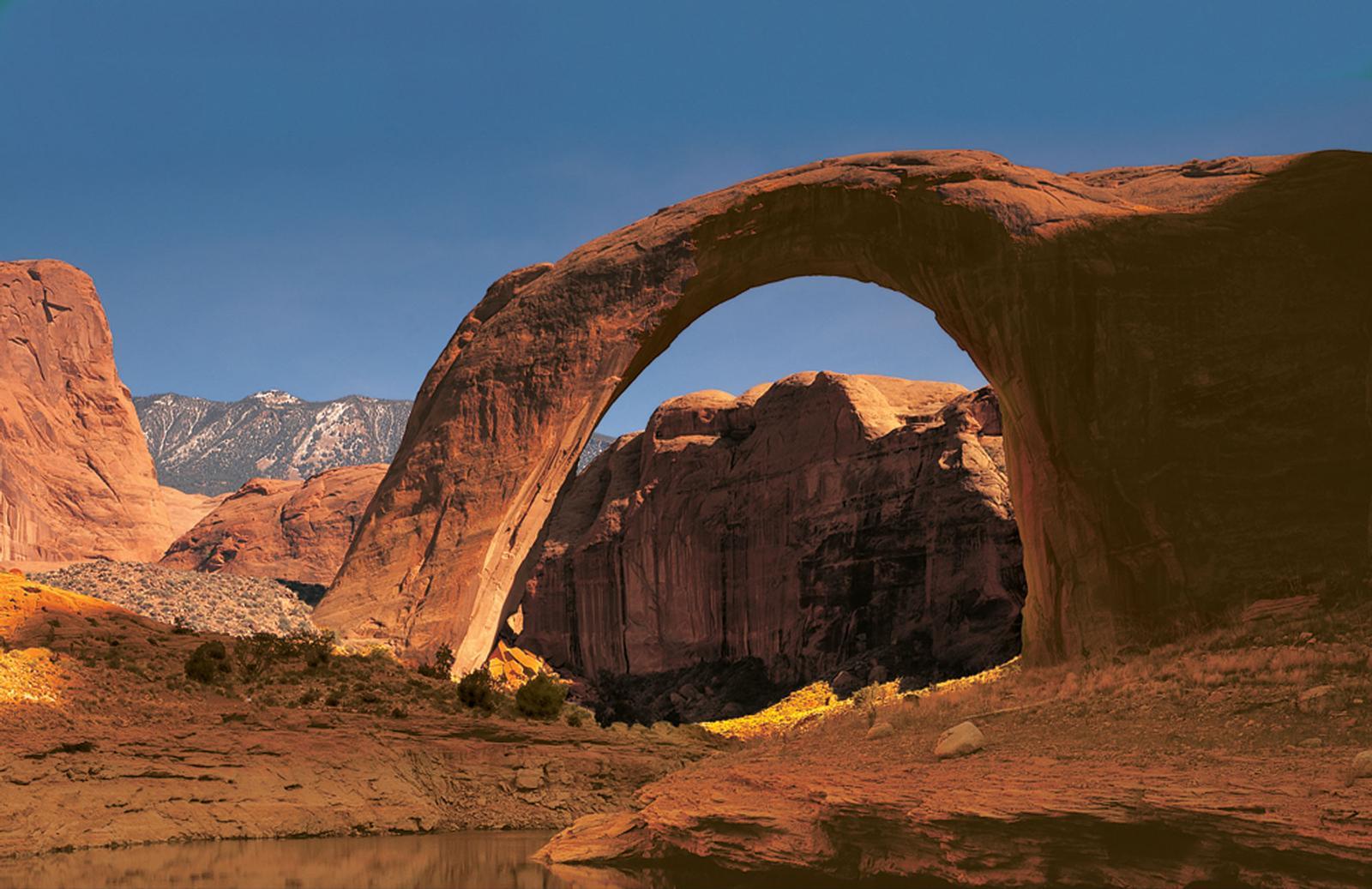 Whether you are an avid fisherman or just a beginner wanting to have some fun, it is very likely that you will catch fish in Lake Powell. With clear, deep water that has little shrubbery, a small diameter fluorocarbon line is recommended (8-10 pound test on spinning rod and 12-17 pound test on levelwind). Striped bass is most lucrative at depths of 60-90 feet. Other catches may include: Crappie, Smallmouth bass, Stripers and Walleye. Some record breaking catches would include a 32 lb Carp, 16 lb Rainbow trout, 24 lb Channel catfish and a 1 lb 8 oz Bluegill. Lees Ferry, located below the Glen Canyon Dam, is reputed to be one of the top rated "blue ribbon" trout fisheries in the world. Any person with a valid Utah fishing license-either resident or nonresident may fish any portion of Lake Powell, including the Arizona portion without any additional permits or licenses. A person with an Arizona license will still need to purchase and possess a valid Utah reciprocal permit to fish in the Utah waters of lake Powell. More licensing information can be found through the following links:
Utah Division of Wildlife Resources
Arizona Game and Fishing Department
For the more active person, water skiing, wake boarding, wake surfing and air chairs are just a few of the amazing water sports that you can do on Lake Powell. The best time to do these activities is in the morning and early evening when the waters are glassy and smooth. With our large selection of houseboats, powerboats and personal watercrafts we are sure to have the right rental to meet your needs. Check out our inventory below:
Lake Powell Watercraft and Toys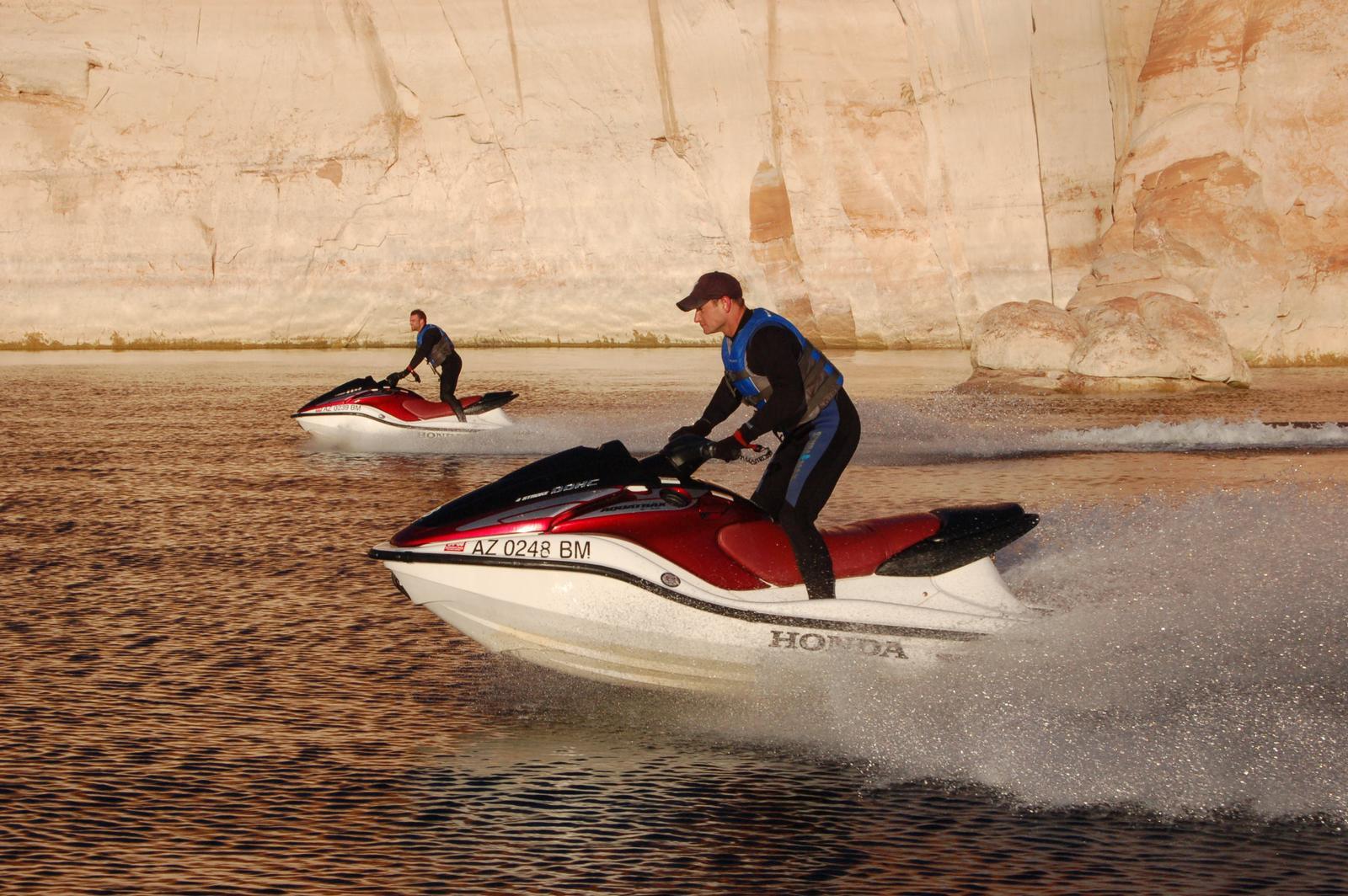 Stretching more than 95 lake miles, Lake Powell is equipped with 3 full service marinas: Wahweap and Antelope Point on the south end of the lake, in Page, Arizona as well as the Bullfrog Marina on the north end of the lake. Each of these marinas has houseboat rentals, fuel docks, and marina stores.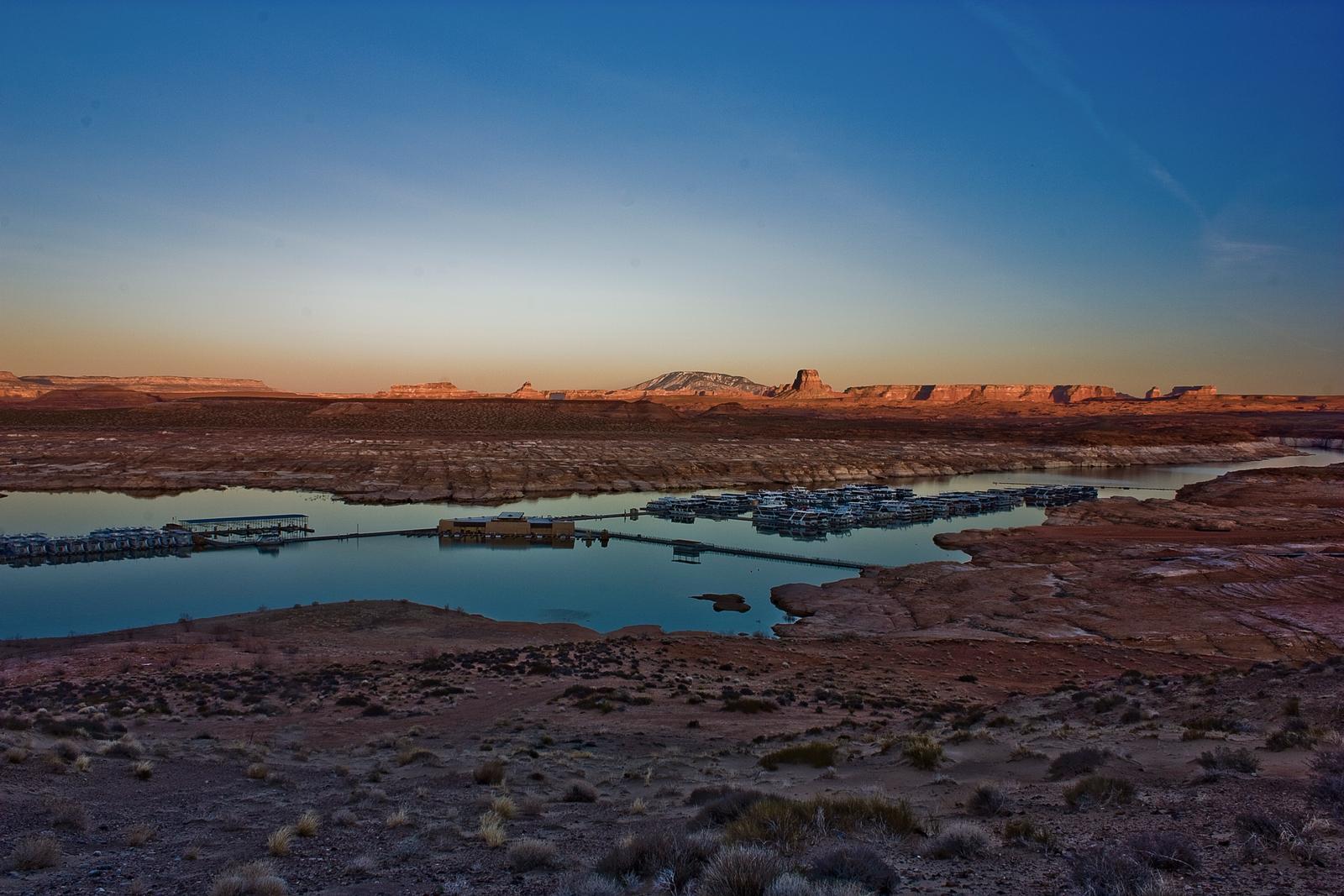 If you are new to houseboating, have no fear. One of the most frequent questions that we hear is , "Well, I have driven a 19-foot boat before but have never driven something as large as a houseboat...is it difficult?" Not only do instructors board the vessel with you before you leave the marina, but they will go over everything with you and walk you around your boat making sure you are comfortable with the operation of your houseboat. I am usually able to reassure our clients by saying "Driving a houseboat is more like driving an RV than like driving a boat." Even though they are large and can seem overwhelming, keep in mind that you are only driving 5-10 mpg (depending on the actual boat size). Another common question is, "How the heck do I anchor this thing?!" Mooring the houseboat is actually quite easy. You simply drive the front of the houseboat near the shore line, being careful not to hit a rock or scrape the bottom of the houseboat. Depending on the size of your houseboat you will have 2 or 4 mooring lines with "anchors" on the ends of them. Use the provided shovel to dig a small hole, approximately 3 feet by 3 feet, place the anchors in them with the prongs facing towards the houseboat and secure the covered holes with the plentiful rocks in the area. You might need to use the sledgehammer as well to ensure they are securely wedged in the ground presenting a 45/60 degree angle with your ropes. Again, you will receive a complete orientation when you check in for your houseboat vacation where you can ask any question that you see fit. You will also be assisted in your taxiing in and out of the marina, allowing you plenty of time to pick your instructors brain.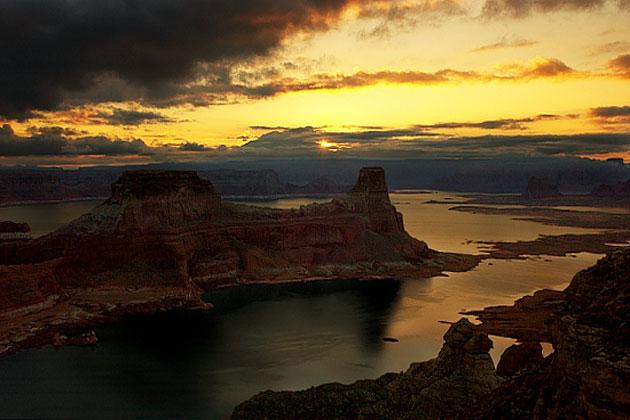 No matter your age, activity level or interest, there is always more than enough happening on a Lake Powell houseboat vacation to keep everyone entertained.
Give us a call at 888-454-8825 or Request Information online to start planning your trip today!