Top Sightseeing Destinations To Visit At Lake Powell
Top Sightseeing Destinations To Visit At Lake Powell
Lake Powell is a natural wonder with over 1900 miles of shoreline north of the Arizona/Utah border. The lake is notorious for its breath-taking red rock canyon views and natural arches.
The top sightseeing destination on Lake Powell is Rainbow Bridge natural arch. It's situated about 50 lake miles from either Page, AZ or Bullfrog, UT. Rainbow Bridge is dubbed as the "rainbow turned to stone" by the Navajo people. The bridge has a deep spiritual as special prayers are offered before passing under it; failure to do so is believed to bring misfortune. Although, the National Park Service began that visitors refrain from passing under the monument for preservation. The sandstone bridge stands 290 feet high and is one of the seven natural wonders of the world.
Rainbow Natural Bridge is one of the most popular sightseeing destinations along Lake Powell.
Only 23 lake miles from Wahweap marina sits Padre Bay, the largest bay of Lake Powell, which stretches seven miles across and nine miles long with gorgeous views of monuments such as the Domingues Butte, Tower Butte, Cookie Jar Butte and Boundary Butte (so named as it straddles the Utah/Arizona border.) From Padre Bay are several back shoots like Kane Wash Canyon, which are great for kayaking and exploring.
Nearer to the Bullfrog area (northern Lake Powell), the Escalante River Arm is a popular destination, known for three-roof Anasazi ruins with wall paintings and petroglyphs, caves and arches, as well as Fortymile Gulch and the Grand Staircase formation.
Off lake sightseeing in the area, near Page AZ
The area surrounding Lake Powell is just as beautiful off the water as it is on. Here are a few must see spots to explore..
Antelope Canyon
(Note: you will need a guide; make sure to arrange a guided tour before your visit, as the road is gated by the Navajo Nation and is restricted to guided tours led by authorized guides. Tours can be purchased in Page, and range from $35-$85 per person.)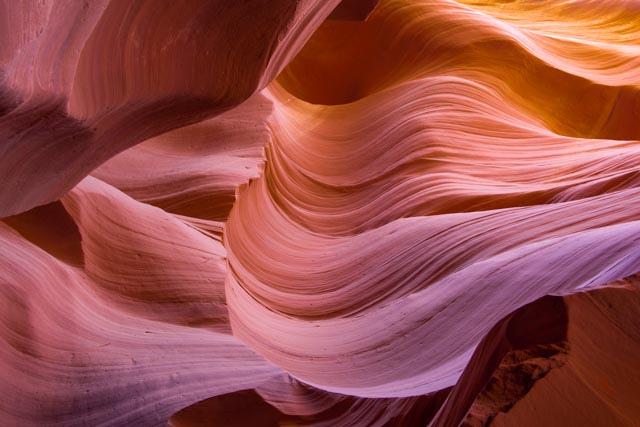 Lower Antelope Canyon's wavelike canyon walls make for some fantastic photos.
Photo by:
Frank Kovalchek
The canyon was formed by the erosion of sandstone due to flash flooding, forming "flowing" shapes to the rock canyon walls. This area is a popular location for photographers.
Upper Antelope Canyon – At about 4000 feet elevation, the canyon walls rise 120 feet above the streambed. Its entire length is at ground level, so no climbing is required.
Lower Antelope Canyon – known as "spiral rock arches" by the Navajo, it's a more difficult hike than the upper canyon. It's longer, narrower in spots, and requires climbing several flights of stairs near the end.
Horseshoe Bend
Just south of Page near the Wahweap and Antelope Point marinas sits a sharp curve in the Colorado River around an incredible rock formation. The colors of the surrounding rocks seem to change with the position of the sun.
The hike to horseshoe bend is only 1.5 miles round trip over sandy hills and across gentle sandstone inclines just below the Glen Canyon Dam.
Glen Canyon Dam in Page, AZ
John Wesley Powell Museum
Located at 6 North Lake Powell Blvd in Page, this museum is open Monday-Saturday April-October (call for winter hours.) Admission is between $1-$5. Visit http://www.powellmuseum.org/ or call 928-645-9496 for more information.
Collections and preservations of the history of John Wesley Powell, the city of Page, and the Colorado River. There are exhibits, and visitor information center with books, maps and local art. Exhibits also include art and artifacts from Native American cultures of the Colorado Plateau.
Navajo Village Heritage Center
Located on North Lake Powell Blvd in Page. Basic tours are free. Call 928-660-0304 for more information.
A traditional Navajo homesite with male and female hogans (traditional dwelling), sweat lodge, bread oven, and "shade houses" where guides teach visitors about the Navajo traditions.