Water Toys: What to Rent and What to Bring
Author

Heather

Category

Things to Do
Water Toys: What to Rent and What to Bring
Water toys can certainly enhance the houseboating experience, and they're not just for the kids. Kids of all ages will have just as much fun (if not more) than those little ones on vacation. In this article, we'll give you some ideas of what to rent and what to bring along to make the very most of your vacation.
Pull the kids, your best friend, or even grandma, on a tube, water ski or wakeboard behind a ski boat and take them on the wildest ride of their life. Hold on as long as you can!
Or, if you prefer a more leisurely pace, slow it down and explore hidden areas by the smooth water in a kayak or on a paddleboard.
Let loose on a personal watercraft and leave the monotony of the every day behind! Bust out of that suit and tie, but why wait? Come as you are, like this guy: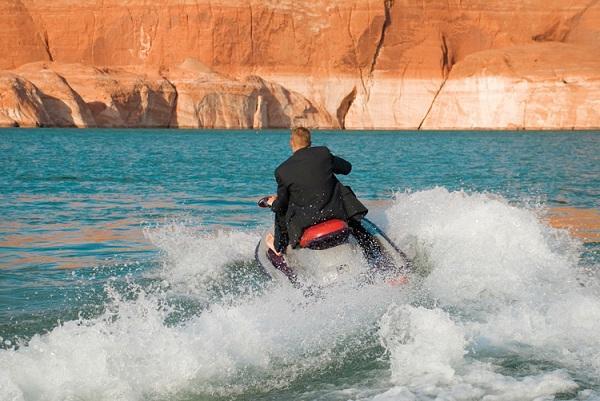 Toys to Rent:
It's always a good idea to reserve these rentals early as they do tend to sell out, especially in the summer season.
Ski Boat
Personal Watercraft
Tube
Water Ski
Wakeboard
Tube
Kayak
Paddleboard
*All options not available for rent at all locations.
Toys to Bring:
Inflatable tube or rafts for gentle floating
Water noodles
Slip n' Slide
Banana boat
Inflatable Trampoline
Anything goes!!
Call your houseboat agent at 888-454-8825 to explore your rental options at your destination!