Adventures on the Everglades
Author

Gina

Category

Destinations, Good News 'n Stuff, How To, Things to Do
Adventures on the Everglades
Located at the southernmost tip of the Florida peninsula within the Everglades National Park, your houseboat adventure at Flamingo marina awaits you!
Everglades National Park is a 1.5 million acre wetland preserve on the southern coast of Florida where freshwater meets salt water and whose tropical and subtropical habitat offers one of the world's most diverse ecosystems. Often referred to as a "slow moving river", the Everglades are a network of wetlands and forests originating in Lake Okeechobee, fed by the Kissimmee River, and flows .025 miles per day into Florida Bay.
Your group of 6 or less will choose to stay dockside aboard your 42' houseboat or captain it yourselves while exploring the exotic scenery and wildlife such as the West Indian manatee, the endangered Leatherback turtle and Florida panther, Blue herring, White tailed deer, Bobcat, Gray fox, American alligator and crocodile (the only region in the world where the two species coexist) and hundreds of species of birds, fish, reptiles and mammals.
Your charming houseboat will make you feel right at home offering queen and full size beds (models vary) a complete galley, air conditioning and your linens and towels (generator can be rented for additional fee). Anchoring is done in open water before nightfall, and suggested areas for safe anchoring will be given. Weather is warm year round making it a perfect getaway if you are ready to get out of your colder winter surroundings.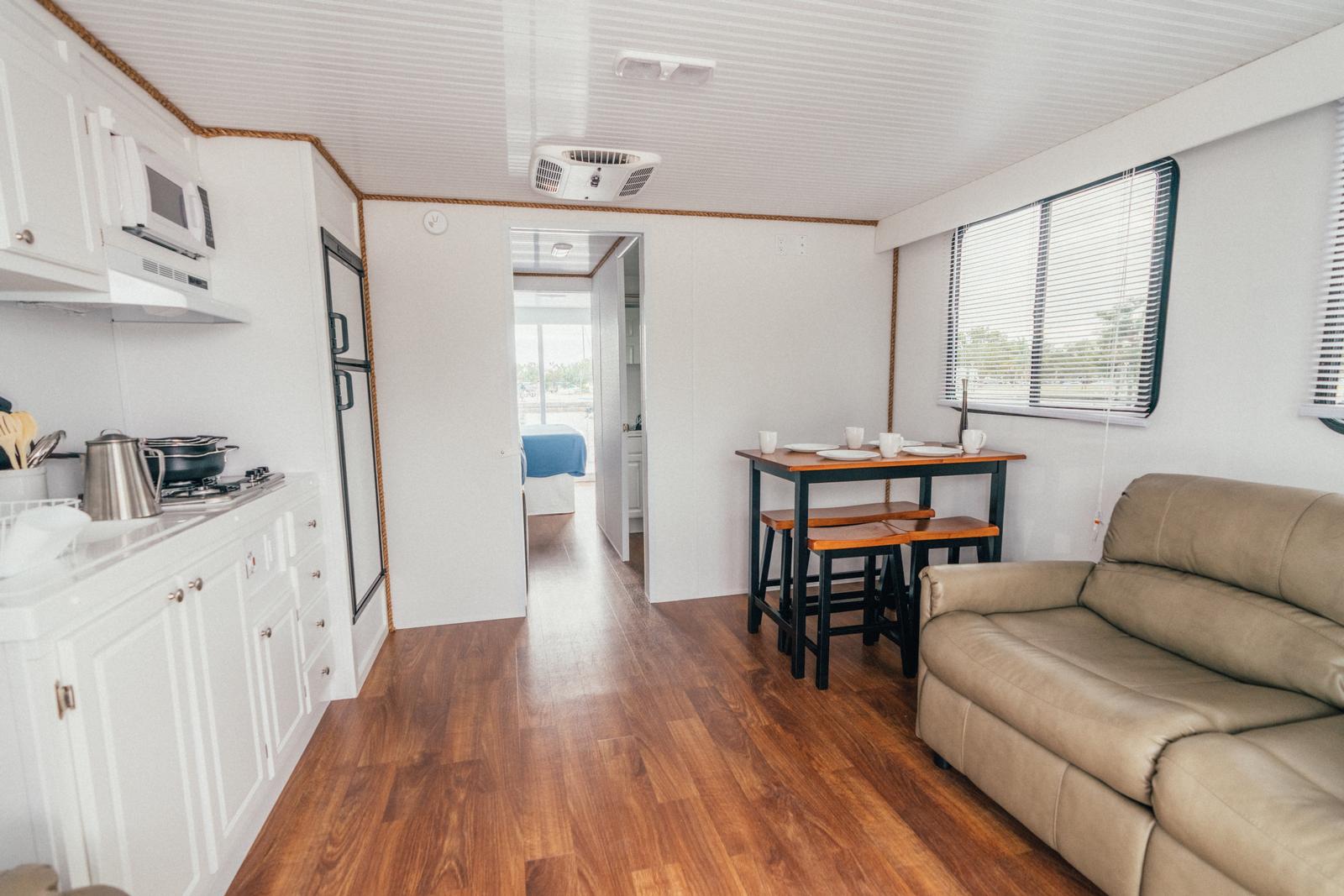 A staff member will pilot you from the marina through Buttonwood Canal, as this is a narrow stretch difficult for some that will lead to open water. Just over 3 miles from the marina, where the swamps of the Everglades meet the seagrass flats of the Florida Bay, you will come to the first of two bodies of water permitted to explore called Coot Bay. Your captain will depart and the fun begins! Coot Bay offers some of the most pristine fishing with catches such as Snapper, Sea trout, Redfish, Bass, Bluegill, Snook, Tarpon, Grouper, Triple Tail, Jacks, Lady Fish and sharks, making the Everglades one of the most popular fishing destinations in the country. You will need to obtain a Florida State freshwater fishing license.
This body of water is also known by canoers for the Mud Lake Canoe Trail, a 2 hour loop around Coot Bay that offers gorgeous scenery through magical mangrove tunnels. Bug spray is stongly encouraged.
Beyond your 1.5 mile journey through Coot Bay, you will enter the second largest body of water in the state, Whitewater Bay, a 10 mile long and 6 mile wide 4-6 foot deep inlet to the Gulf of Mexico (prohibited via houseboat in addition to Shark River). Most houseboaters spend the majority of their time enjoying the giant coves, along the outskirts of the Bay.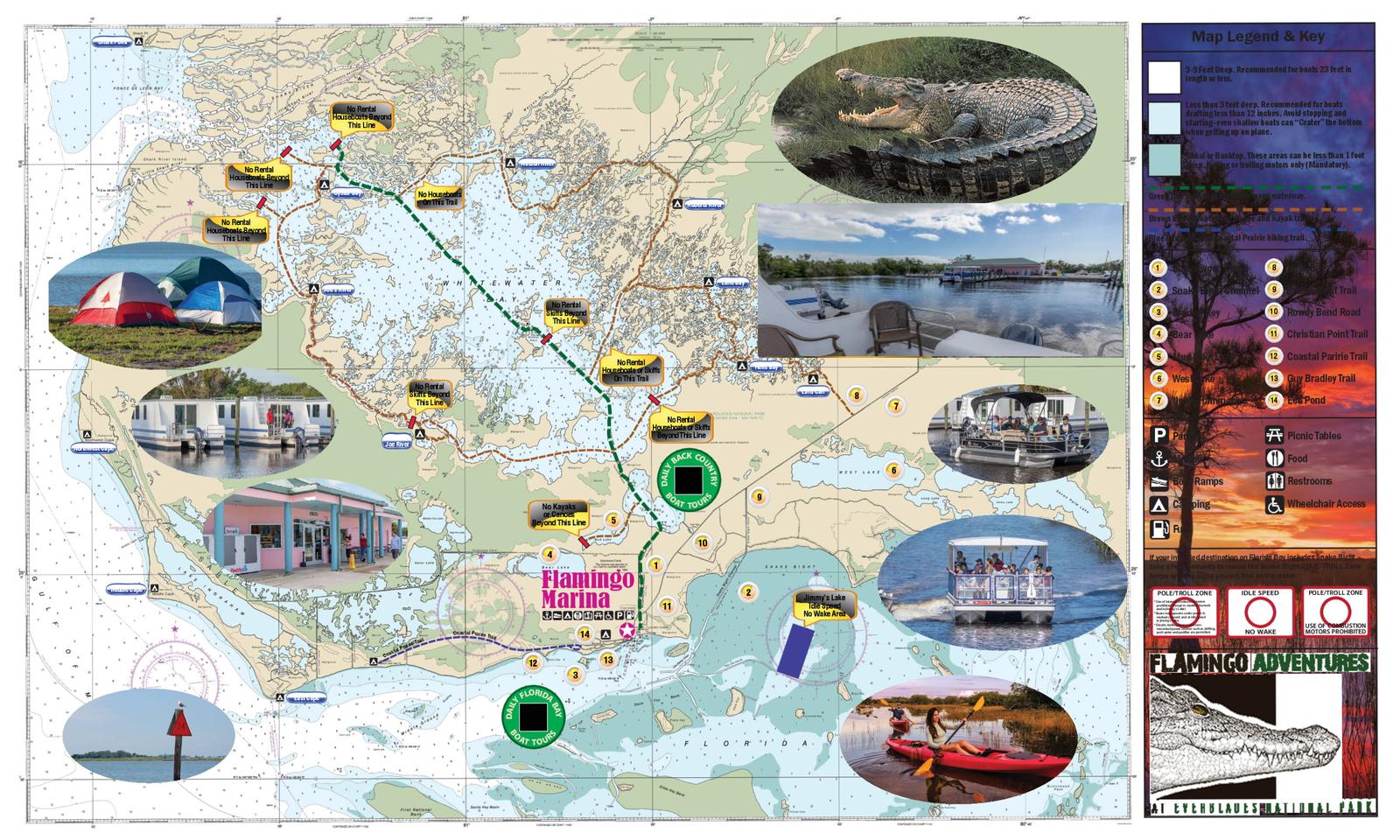 The Everglades National Park is a heaven for lovers of the great outdoors, with an unsurpassed amount of nature watching, tons of trails for hikers and bikers, houseboating, sailing, snorkeling and diving, beachcombing, canoeing, geocaching and much more.
Call one of your friendly agents at Houseboating.org today and we can answer any and all questions you may have! 888-454-8825