Lake Mead Stripers
Author

Gina

Category

Destinations, Good News 'n Stuff, How To, Things to Do, Tricks of the Trade
Lake Mead Stripers
Sometimes it is easy to forget Las Vegas has a lot more to offer than busy casinos and flashing lights! The Nevada desert is home to some of the most breathtaking natural wonders in the country. Just 45 minutes frm the Las Vegas Strip lives the magnificent lake Mead. Lake Mead is over 112 miles long and has over 500 miles of shoreline, allowing you explore hundreds of coves and inlets while fishing for the stripers this great lake has become famous for!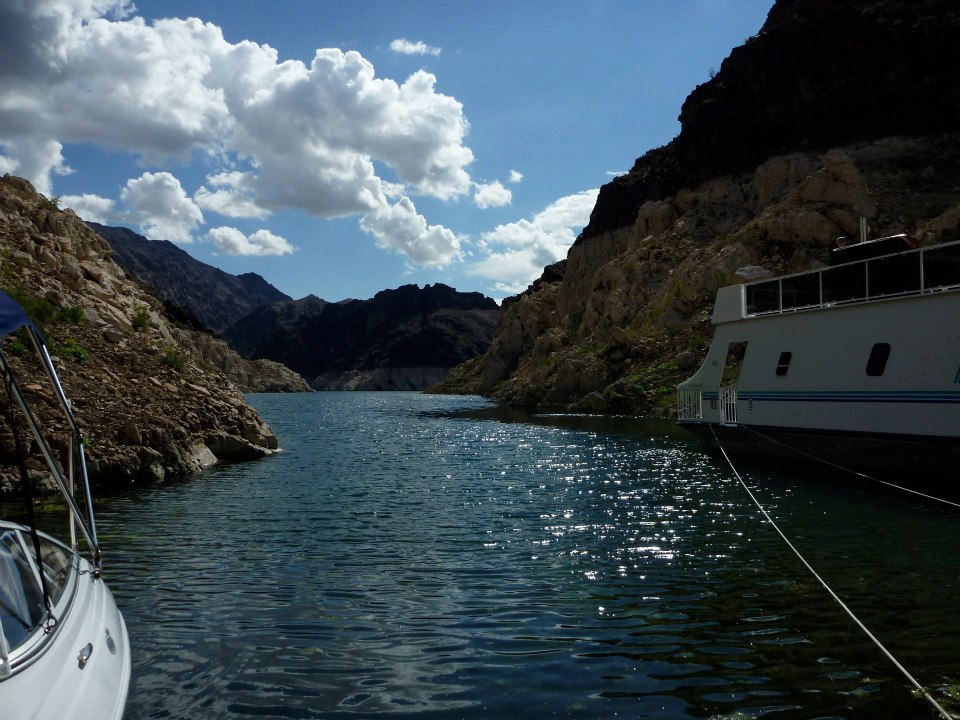 Stripers are not native to the west. During the 1960's the Californial Fish and Game introduced stripers to lake Mead in hopes of providing anglers with an easy-to-catch sport fish. This voracious predatory fish successfully reproduced and rapidly flourished in just a few short years. Unlike Largemouth bass, which tend to be solitary predators that lie and wait for their prey near cover, stripers tend to be found in large schools and roam the open water. They typically target schools of young fry, newborn fish such as threadfin, gizzard and even stripers themselves; then push them to the surface for slaughter. Striped bass is a delicious fish that is a happy medium between flaky and meaty. Its texture lies between cod, sole, swordfish and tuna, but can depend on where it was caught and what it was eating.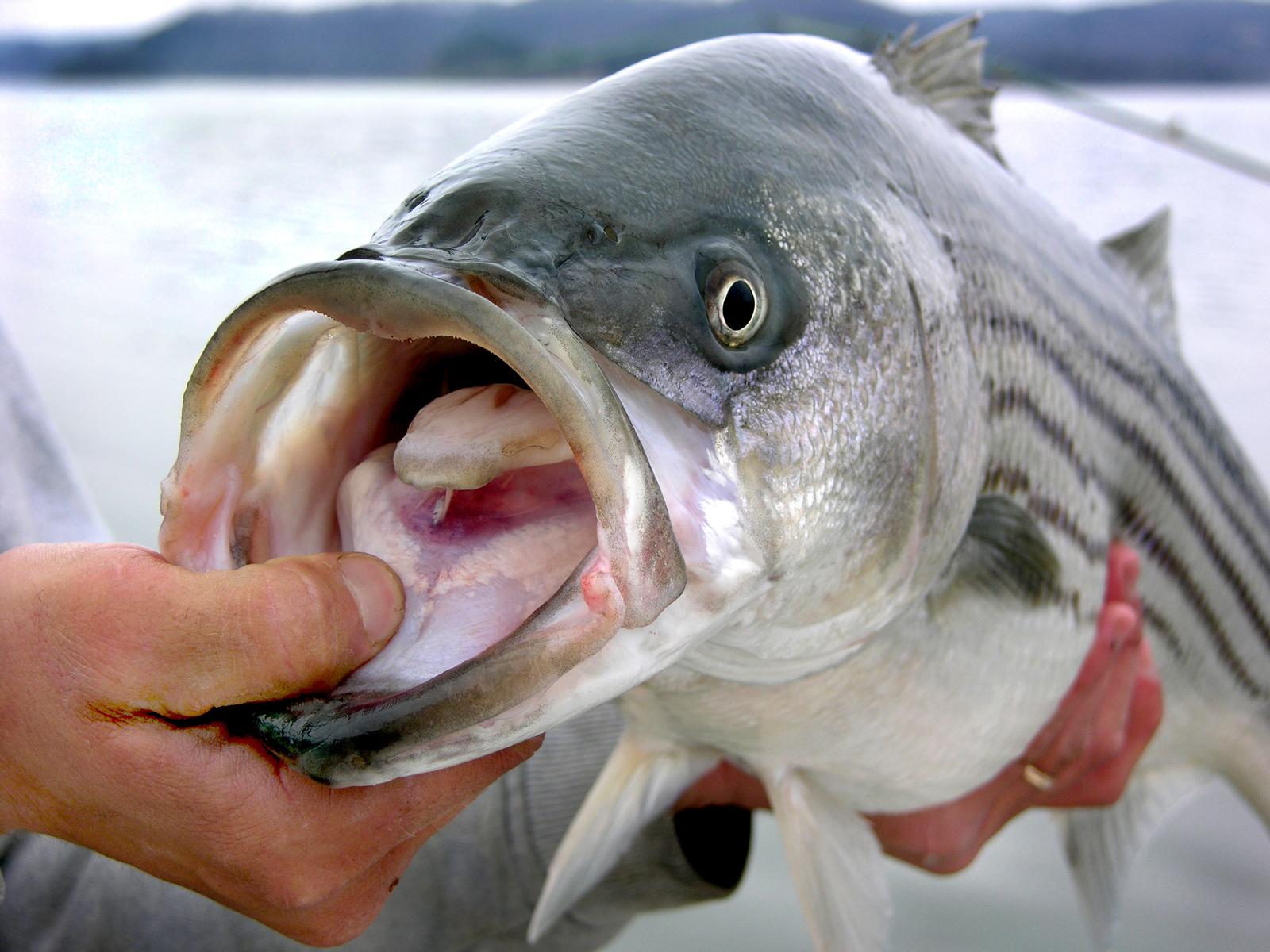 How to catch stripers
Trolling for Boils. Trolling is a fantastic option for catching stripers if you don't feel like venturing to a specific "hot spot." Boils are a great way to find schools of 500 plus stripers that are pushing and feeding on baitfish all over the lake which can happen at anytime of the day and result in multiple catches per boil. Boils can occur over deep open water but often happen where stripers can trap shad along breaklines, blufs and shorelines. Simply drive around the lake, have a shad immitating top water jerk bait on the line, and toss in the water when you get close enough to the action! Keep your eyes out for flocks of circling birds and surface activity. Make sure your grip is tight because a striper strike feels monstrous at 14-16 inches in length and 1-2 lbs. Some of the best striper fishingoccurs in June through October.
For this type of topwater excitement, it is hard to beat walking baits like the Heddon Zara Spook or Sebile Flat Belly Walker. In the swimbait category, the A.C Plug remains a popular option. Also try soft-plastic swimbaits rigged on jigheads in the 3/8 oz to 3/4 oz range. Other effective lures include spoons and bucktail jigs in shad colors such as white and silver.
When Stripers Go Deep
From winter until the spawn, which typically occurs in mid April-May, stripers can be found appriximately 25-50 feet deep, which calls for jigging and trolling presentation. Vertically jigging with spoons and jigs baited with shad, sardines or anchovies is often the best way to get baits in front of deep stripers. Try bucktail jigs in the 3/8 oz-3/4 oz range tipped with baitfish or bullethead jigs with a soft plastic fluke or swimbait. You will want to experiment with bait depth from just at the level of the stripers to just above them working the jig with hops and pauses. While still holding the bait, let it subtly rise and fall with the wave action on the boat which will often trigger stripers. Trying a partially inflated balloon on the line works like an oversized float, keeping baits away from the boat at a specific depth. They are inexpensive, offer adjustable buoyancy and position on the line, in addition to being easy to see. Downriggers are unbeatable for stripers suspending deeper than 30 feet. Use cannonballs from 8-12 lbs and set lures from 50 to over 100 feet behind the cannonball. Set downriggers at the depth stripers seem to be holding; then adjust the weight as needed.
During the heat of summer, stripers often move to deeper and cooler waters during the day and then may move to shallow waters at night. Night fishing is a great way to beat the heat; try using lures or bait such as shad, sardines or anchovies. (See fishing rules and regulations at Lake Mead)
A few hot spots for Stripers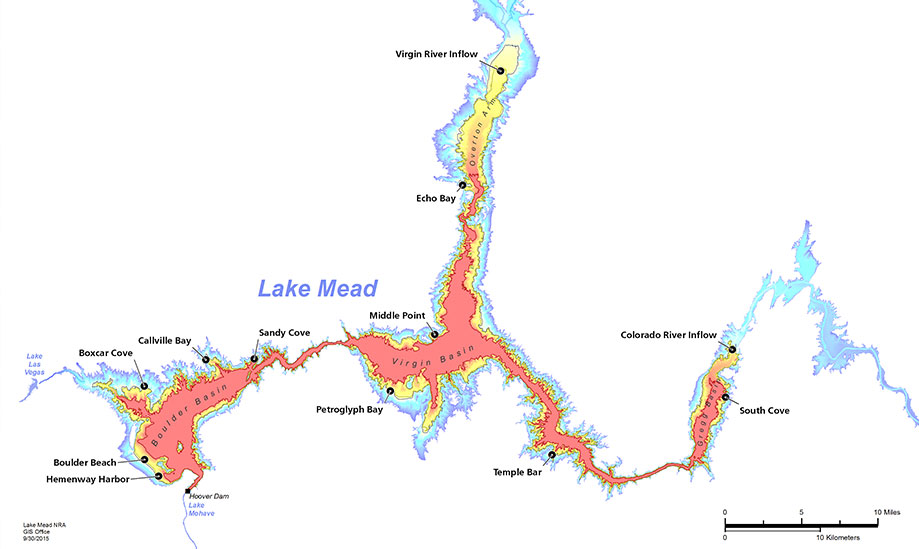 Photo by NPS.gov
Should you wish to explore the lake a little bit, here are some notoriously hot locations for catching stripers. All of these locations are accessible by houseboat.
Overton Arm-You can go as far as Glory Hole which is just past Echo Bay. There will not be any services on the water at Echo Bay any longer such as fuel, so you will need to plan accordingly.
Virgin Basin-Central to the lake, large open area. You will not be able to beach your houseboat here overnight due to high winds and little protection. Lots of coves and inlets to moore your houseboat towards.
Temple Basin-This less populated area located near Temple Bar marina is known for its incredible rock formations, beautiful scenery and its 20 mile long stretch of calm waters. Excellent striper fishing.
Las Vegas Bay-Located in the large Boulder Basin near Callville Bay marina, this area offers coves and inlets that are prime for fishing and close to your houseboat pick-up/return location.
Call Houseboating.org for help in planning your next houseboat fishing trip to Lake Mead! 1-888-454-8825!